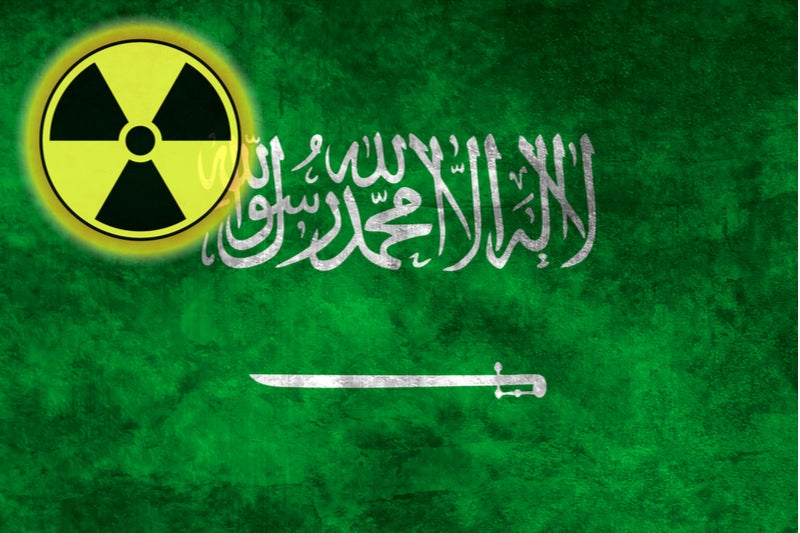 A senior US official has confirmed that Washington is in talks with Riyadh about supporting Saudi Arabia's planned nuclear programme.
Speaking in Abu Dhabi on 26 October, US Energy Secretary Rick Perry Perry confirmed that talks were ongoing.
Perry told the forum that Saudi Arabia's leadership in Riyadh wanted to sign a '123 Agreement' with the United States.
A 123 Agreement is section of the US' Atomic Energy Act of 1954 that sets out rules governing US nuclear cooperation with other nations.
Under the terms of a 123 Agreement, Riyadh must sign an accord with Washington committing to the peaceful use of nuclear technology before US companies can compete for its nuclear energy projects in Saudi Arabia.
The US has an existing 123 agreement with 48 countries to date, according to the news agency MEED.
Riyadh is reported to have been unwilling to commit to a deal that would rule out the possibility of enriching uranium or reprocessing spent fuel.
Saudi Arabia's nuclear energy programme
In November 2018, Saudi Arabia's King Abdullah City for Atomic & Renewable Energy (KA-Care), the body overseeing the kingdom's nuclear energy plans, appointed Australia's WorleyParsons to the project management office consultancy role for the programme.
WorleyParsons will provide consultancy services including project governance, resource management, project services, training and compliance across the full scope of the large nuclear power plant (LNPP), small modular reactors and nuclear fuel cycle.
WorleyParsons previously completed the LNPP site selection study for KA-Care.
Riyadh is planning to develop nuclear power through a three-pronged strategy.
The majority of the nuclear power capacity will be developed through conventional large-scale nuclear facilities, the first of which will be a two-reactor 2.8GW plant.
KA-Care announced in August last year that it had awarded a contract to France's Assystem to carry out site characterisation studies, including geological surveys and environmental impact studies for the first planned project.
The studies will allow Saudi Arabia to choose the most suitable site on which to build, as well as provide important technical details for the design of the project.
MEED had reported in early 2018 that the kingdom was assessing two potential locations for the NPP. The two shortlisted are at Umm Huwayd and Khor Duweihin. Both can be found on the coast near the UAE and Qatari borders.
The two sites were shortlisted following investigations conducted in 2011 and 2012, in accordance with sitting guidance issued by international regulatory agencies, including the International Atomic Energy Agency (IAEA) and the US Nuclear Regulatory Commission (NRC).
Companies are positioning themselves for the contract to build the first nuclear power plant. In July last year, Russian state nuclear company Rosatom said it has been shortlisted to participate in the tender for Saudi Arabia's first nuclear power plant.
According to a report in the Saudi Gazette, Rosatom will be invited to participate in the upcoming tender by KA-Care.
Earlier in July, South Korea's energy ministry revealed that state utility provider Korea Electric Power Corporation (Kepco) had made the shortlist for the first Saudi nuclear power tender.
In addition to developing nuclear power capacity through large scale nuclear reactors, the kingdom is also planning to develop atomic energy through a series of smaller system-integrated modular advanced reactor technology (Smart) nuclear power plants in the kingdom in partnership with South Korea.
MEED reported in October last year that progress had been made with the Smart programme, and engineering work for two Smart units will be completed in November.
South Korea and Saudi Arabia have already invested more than SR487m ($129.8m) in plans for Smart nuclear reactors across the kingdom. Riyadh signed a memorandum of understanding (MoU) with South Korea in November 2016 to develop the technology. The Smart reactors are expected to have a capacity of about 100MW each.
The third pillar of Saudi Arabia's nuclear energy programme will involve mining uranium resources to fuel the plants, sources close to the kingdom's nuclear programme have told MEED.
Developing the kingdom's mining sector is a key pillar of the Saudi Vision 2030 that was launched in April 2016.
MEED
This article is sourced from Power Technology sister publication www.meed.com, a leading source of high-value business intelligence and economic analysis about the Middle East and North Africa. To access more MEED content register for the 30-day Free Guest User Programme.