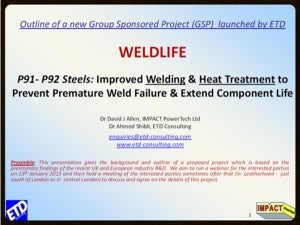 ETD Consulting is pleased to launch another group sponsored project (GSP), WELDLIFE, for international industry sponsorship.
Type IV in-service creep cracking at weld heat-affected zones in leading power plant steels, such as P91 and P92, has often been considered a costly but unavoidable life-limiting problem.
However, recent UK industrial and collaborative research projects indicate that by improving the heat treatment and altering the welding processes, the life of welded components can in fact be improved by a factor of the order of two to three times by measures that will slow down or prevent Type IV cracking.
This should result in tremendous benefits for steel producers, plant manufacturers, plant operators and welding companies.
However, the preliminary findings need to be proven in practical application and demonstrated through model component testing, long-term stress rupture / creep testing data generation, and detailed analyses for long-term safe life prediction and assessment.
The new GSP is aimed at achieving these objectives. It is encouraging that some of the industry partners involved in the preliminary projects have shown interest in being involved and contributing their knowledge base, experience and test materials.
The work programme and the indicative costs shown are subject to discussion between the potential industry sponsors. For this purpose, ETD is organising a one hour webinar on Thursday 15 January at 4pm (UK time), which will also present the initial research results.
Further information will be sent to all those who show interest in this project. The webinar will be followed by a project meeting a few weeks later in Leatherhead, Surrey, UK. Those who cannot join in person will have the choice of taking part via video conferencing.
The cost for such projects is shared between a number of sponsoring / participating organisations. Each sponsor gets the full data and results while the work is carried out by ETD's specialist staff and consultants. Sponsors are involved throughout in the direction and outcome of the project.
For more information, visit ETD's WELDLIFE website.
ETD has a range of reliability centred maintenance (RCM) services available.The first is the 'Plant...