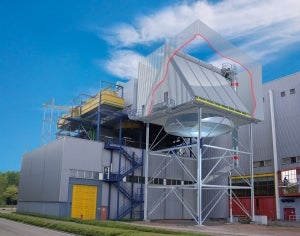 Bronswerk offers solutions for heat transfer and fluid flow systems. If industrial cooling processes are required or cooling processes lack capacity, the company offerclients tailor-made solutions that are innovative, simple, effective and require minimal investment costs.
A couple of years ago, Bronswerk introduced the Whizz-Wheel, an industrial fan that is most efficient and lower in noise emissions then ever realised. Due to the improved aerodynamic design, the fan power consumption is reduced by approximately 50% and sound emissions are reduced by 4dB(A) – 6dB(A) in comparison to other low noise fans.
This technology is also excellent for debottlenecking your existing air coolers or A-frame condensers and has the ability to boost your cooling performance (power output) up to 30% without compromising on electric power consumption. More than 160 fans are currently operational ranging from 6ft to 32ft in diameter.
Another solution Bronswerk offers regarding debottlenecking air-cooled coolers and condensers is the Elbrons fogging systems. This system enables you to reduce your ambient temperature up to 10°C by evaporating demineralised water before entering your cooler, increasing your air cooler performance significantly. This system is especially of interest in climate conditions with high-ambient temperatures.
What are your challenges related to heat transfer and fluid flow systems? Please visit us during the Powergen Las Vegas, 8-10 December, booth 1454 and discuss it with our experts.