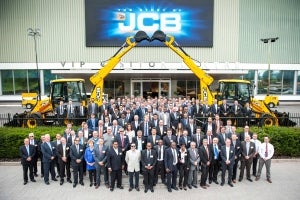 JCB Power Products hosted more than 100 dealers at its headquarters recently to unveil new products and services, and to further develop their understanding of its latest generator range.
Using Crestchic loadbanks, JCB demonstrated the products under a simulated electrical load.
The JCB Power Products event focused on educating its dealers on the entire product range, which includes over 170 generators and lighting towers, and enabled them to see samples of the equipment, as well as attend a series of presentations.
Attendees were able to see first-hand the way a loadbank operates, and how the units can run together using multiple sets to exercise generators.
Highlights included the many benefits that loadbanks can provide to dealers, including pre-delivery inspections and the extended chance for dealers to run tests for their own customers, as well as the fantastic commercial benefits available to all rental fleets customers.
Crestchic is one of the world's leading specialist manufacturers of loadbanks, which are used in the testing of power supplies in the most demanding climatic and environmental conditions across seven continents. JCB has been using Crestchic loadbanks for its in-house test facilities for almost four years.
Crestchic Sales and Marketing director Paul Brickman said: "We are always looking for new ways to raise the profile of loadbanks as many industries are still unaware of the various benefits they provide for businesses. When JCB invited us to be part of this exciting event we jumped at the chance."
JCB Power Products Product and Training specialist Sheldon Hughes said: "We have been working with Crestchic for several years now and invited them to share their expertise in loadbank testing with our key customers.
"While many of our dealers have a knowledge of loadbanks, the event gave them a chance to liaise with a trusted provider and test our generators as if they were in-situ."