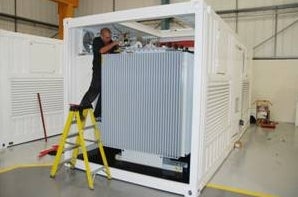 In response to rapid growth in the international power rental market, Crestchic, a world leader in specialised loadbank manufacturing and testing solutions, has launched a new range of step-up transformers which includes the largest transformer in a 20ft container on the market today.
The recent Global Power Rental Market 2012-2016 report from Technavio forecasts the industry to grow at a compound annual growth rate of 17% over that period. It also states that one of the key factors in this market growth is the increasing demand for electricity.
Crestchic's portfolio expansion is seen as a natural progression for the company as it has packaged step-up transformers in ISO containers to existing loadbank clients for more than 25 years. It has already provided more than 60MVA of step-up transformers in the last year alone, highlighting strong demand in the marketplace.
A dedicated production area with brand new lifting equipment and storage has been created at the Burton-on-Trent manufacturing facility in order to accommodate the new product range.
In addition to supplying to the international power rental sector, Crestchic will supply to its parent company's transformer rental business, Northbridge Transformers, which is owned by Northbridge Industrial Services Plc.
Paul Brickman, sales and marketing manager at Crestchic, comments: "Many of our clients are involved in the international power rental market and have therefore seen us as the natural partner for step-up transformers. The demand for high-quality, robust containerised transformers is very strong so this was an obvious progression for Crestchic."
Crestchic manufactures a range of containerised step-up/step-down transformers ranging from 2.5MVA -4.0MVA in 10ft standard ISO containers up to 8.0MVA in 20ft standard ISO containers, the latter being the largest of their kind available. The multi-tap transformers range from 2,000kVA to 8,000kVA, with voltage up from 600v to 34.6kV.