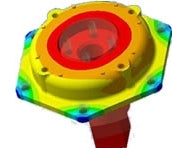 IDAC is offering a free ANSYS open day for those interested in learning about simulation techniques and software. IDAC's open day gives you the opportunity to visit IDAC and meet our computer aided engineering (CAE) simulation experts and ask questions about your specialist field.
The event takes place at Airport House, Croydon (UK) on Thursday 26 January, and runs from 10.30am to 3pm. The day will be split into two parts, with presentations on different simulation technologies and their applications in the morning, and breakout sessions after lunch where you can pose questions about analysis techniques with respect to your industrial field.
Breakout sessions:
FEA (to include composites, dynamics, fatigue and heat transfer)
CFD (to include high and low speed simulations)
Explicit Dynamics (to include crash, explosion and drop tests)
Electromagnetics (to include high and low frequency)
One attendee from each company will receive a £250 voucher which can be redeemed against services provided by IDAC. This is an all-day event where lunch will be provided.
To register, please contact IDAC or visit their website.
We will also be running open days on the following dates in 2012:
Thursday 26 April
Thursday 19 July
Thursday 18 October