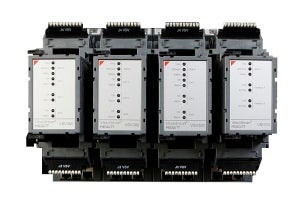 Meggitt, specialists in advanced condition monitoring, has launched the new VibroSmart® distributed monitoring system for turbines, critical machinery and balance-of-plant equipment.
Highly flexible, VibroSmart can be a standalone safety assurance system for vibration-based machinery protection or used to provide advanced diagnostic tools to inform and support asset management decisions.
The system seamlessly integrates with most plant control systems such as a PLC or DCS. When combined with VibroSight® condition monitoring software, it enables detailed insights into machinery health.
Unlike traditional rack-based systems, which centralise monitoring in a safe area, VibroSmart is designed and certified to work in harsh industrial environments characterised by explosive atmospheres, high temperatures and high mechanical stress.
ATEX Zone 2 (CSA Class I Division 2) certified VibroSmart modules can be skid-mounted directly on the equipment to be monitored, requiring only a few metres of low-noise cable from Meggitt's ATEX-certified proximity probes, accelerometers and dynamic pressure sensors.
VibroSmart senior vice-president of sales and marketing of distributed monitoring Stuart Parker said the system presents a significant cost savings for Meggitt's customers, who require the highest level of safety assurance.
"Our ethernet-enabled system costs up to 30% less to install and is priced by the channel, so more assets can be monitored for less capital investment, with no compromise on performance," Parker said.
Each two-channel module can operate independently for continuous, online monitoring of smaller critical assets and dispersed balance-of-plant equipment requiring low-channel counts.
Multiple modules can be combined to achieve API-standard machinery monitoring functions for turbomachinery and large critical assets. The VibroSight server can communicate with multiple VibroSmart networks.