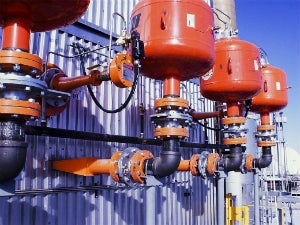 A worldwide leader in bulk material handling technology has announced the formation of a new global business unit, which will focus specifically on the powerhouse, and products designed to clean the boiler and all air pollution control components, SCR reactors, heat exchangers, economisers, bag houses, ductwork, ID fans and electrostatic precipitators.
In addition to the power industry, the new business unit within Martin Engineering is targeting a number of applications, including biomass, pulp and paper, cement manufacturing and other industrial operations that use large-scale boilers. The new Power Generation Solutions group is structured around a series of technologies that work in tandem to reduce ash build-up, boosting system throughput, regulatory compliance and energy efficiency.
"Virtually all large-scale boilers have pollution control devices," explained Managing Director Mark Stern. "The components need to be relatively clean for the units to function properly, but they all collect deposits over time. It's been demonstrated that ash buildup can cost some facilities more than a million dollars per year in reduced thermal efficiency, maintenance, system downtime and replacement catalyst."
The issues include a host of problems caused by ash buildup, such as a loss of de-NOx potential, increased pressure differential, decreased catalyst life from plugging, poisoning and erosion, loss of heat transfer or excessive buildup on bags, collector plates and ducting. In many operations, the problem can be severe enough to require periodic shutdown and manual cleaning.
According to North American Sales Manager Mark Dornoff, "Sonic horns have been used in these applications for some time, dislodging fly ash so that gas flow and gravity will move particulates back into the exhaust stream. Acoustic cleaning is very effective with fuels that have a low ash content, but Western coals and some other fuels tend to produce more ash," he said. "Low operating loads and associated reduced gas velocities also contribute to excessive ash buildup."
To address the problem, Martin Engineering has found through extensive testing (both in the lab and on-site) that combining acoustic cleaning with ash sweepers delivers better results than either technology used alone. "The horns are still used to energize the bonded particles, and a timed release of pressurized air from the ash sweepers re-entrain the particles back into the high-velocity zone," Dornoff observed.
Team of Experts
The new business unit is a way for Martin Engineering to bring together experts in cleaning technology for power generation stakeholders, to deliver solutions that improve process control and increase profit. One of the distinguishing characteristics of the new global team at Martin Engineering is the range of disciplines and expertise that the members have. While other equipment suppliers offer experience in bulk materials handling and mechanical engineering, the new business unit is taking a broader approach by assembling a group that also includes power generation experts.
"There's some crossover between conventional material handling and these powerhouse applications, but we've learned that these are very specialised operating environments, with some unique requirements," said Stern. "Whether it's a retrofit or a new plant, we have the team members who really understand the power generation side and the material handling, which helps us develop customised solutions tailored for each individual customer process."
In building the Power Generation Solutions team, Martin Engineering has also partnered with SCR-Tech, a respected worldwide provider of SCR catalyst management and regeneration technologies. With the firm's unique knowledge of coal fired boilers, from burners to stack, and its patented catalyst regeneration process, customers benefit from engineered solutions that deliver significant savings in operating and capital costs. SCR-Tech is the only American-owned and operated catalyst management and regeneration company in the world.
"By helping plant operators maximise their pollution control system performance and efficiency, we assist them in reducing operating and maintenance costs, lowering risk and maintaining cost-effective compliance with increasingly-stringent environmental regulations," Stern added. "With this combined cleaning approach, boiler operators no longer have to accept sacrificial catalyst as part of the cost of doing business."
In addition to marketing existing Martin Engineering sonic horns and ash sweepers, the business unit will be developing new products engineered specifically for power generation applications. These include such designs as the company's Martin® Mega 75 Acoustic Cleaner, which has demonstrated superior particle displacement over conventional sonic horn designs. More than 1000 units were sold in its first year of availability. The firm will also focus on products to further increase worker efficiency and safety, such as high temperature access doors which combine outstanding sealing performance with quick removal, yet can withstand temperatures up to 1000°F (538°C).
A global leader in bulk material handling solutions offers a family of responsive conveyor belt...