Curtiss-Wright Surface Technologies
Surface Treatments for Corrosion and Fatigue Protection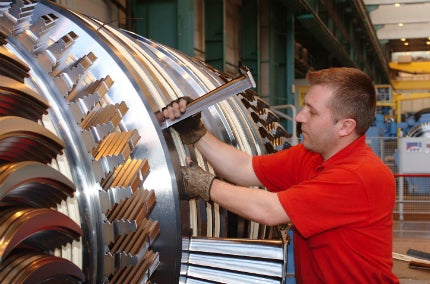 Curtiss-Wright Surface Technologies (CWST) offers a wide variety of surface treatments and processes to protect components, such as controlled shot peening and laser-shock peening.
We also provide complex coatings systems to improve the life and performance of components including dry film lubricants and thermal spray coatings.
Protecting power components form corrosion through surface treatments
CWST surface treatments help to prevent premature failures. The solutions extend maintenance and service intervals, which increases the lifespan and performance of components.
The CWST treatment range includes controlled shot peening, which induces compressive stress to protect components from fatigue, corrosion and environmental and operational damage and shot peen forming which corrects manufacturing distortion and forms complex contours in wing skins and empennage panels.
Our laser shock peening surgically places beneficial residual compressive stress up to ten times deeper than controlled shot peening.
High-velocity oxygen fuel (HVOF) plasma and flame spray provides thermal and corrosion protection, Everlube® dry film lubricants to protect against corrosion, chemical and environmental attack, as well as parylene conformal coatings for ultra-thin protection.
We also offer chemically assisted surface enhancement (CASE) isotropic superfinishing, which improves performance and lubrication, as well as reducing noise and operating temperatures.
Preventing corrosion and fatigue in power equipment
Premature failure of components can typically result from manufacturing stresses, as well as service conditions such as thermal variation, vibration and circulating liquids.
Our controlled shot peening and laser shock peening is designed to protected components against extreme heat, corrosion, stress corrosion, cracking, fatigue, galling, and fretting.
CWST also offers a range of liquid and thermal coating systems, including HVOF and flame thermal spray, dry film lubricants, corrosion protection coatings, as well as organic and inorganic surface treatments.
Typical applications include:
Turbine blades, disc heads, discs and shafts
Fabricated and welded structures
Heat exchangers
Pumps, blocks, valves, and shafts
Gearing systems and springs
Pressure and storage vessels
Our processes can also be used as a maintenance tool to replace tensile stresses that build up through harsh operating conditions.
Continual erosion on steam turbine blades, caused by abrasive water droplets, can lead to minute cracks appearing in the substrate, resulting in erosion of the surface. This reduces efficiency and may result in the failure and necessary replacement of the blade. Eroded components can be rebuilt back to their original manufacturing condition.
With the application of CWST controlled shot peening or thermal spray, the life and performance of turbine blades can be dramatically increased.
Preventing stress corrosion cracking
Stress corrosion cracking can occur when a susceptible alloy is in contact with a corrosive environment and also is subject to sustained tensile stress, which may be below the elastic limit of the material. This condition can be delayed, or avoided, by the application of controlled shot peening, which will convert these tensile stresses to beneficial residual compressive stresses.
Surface protection coatings for pumps and valves
CWST coatings can protect pump and valve components from damaging service conditions, such as wear, corrosion, erosion, seizing, steam, and extreme temperatures from -420°F to 188°F, or -251°C to 982°C.
Latest robotic equipment for controlled shot peening and HVOF Thermal Spray
CWST has worldwide facilities, which specialise in a particular service or process, including thermal spray coatings, dry film lubricants, controlled shot peening and laser shock peening.
Our facilities are fitted with our own state-of-the-art automated, robotic equipment designed by CWST. This equipment can reduce turnaround times and costs for customers.
We also have specialist mobile field team with specialised equipment for performing on-site maintenance processing to the same quality, and standard as performed in our own facilities.
Industry and customer approvals and specifications
We operate at the highest level and actively attain industry specific approvals, including ISO 9001:2008, NADCAP and AS9100 Rev C, as well as specific customer approvals.
Continuous improvement and process development
CWST runs a company-wide continuous improvement programme to improve services across all its facilities.
We are also actively involved with industry associations and academia to further develop our processes and products to ensure we meet customers' expectations.
We share our expertise and knowledge throughout our network of over 70 worldwide facilities.
Curtiss-Wright Surface Technologies Images
Press Release
On 4-5 November, CurtissWright Surface Technologies will be at Advanced Engineering, NEC, Stand F20.
Read more
On 21-22 October, Curtiss-Wright Surface Technologies will be at the Engineering Design Show, Ricoh Arena, Coventry, Stand no D65.
Read more
Curtiss-Wright Surface Technologies
Metal Improvement Company LLC
European Corporate Office
Hambridge Lane Berkshire
Newbury
RG14 5TU
United Kingdom
+44 1635 279 621
+44 1635 279 629
eurosales@cwst.com
www.cwst.co.uk