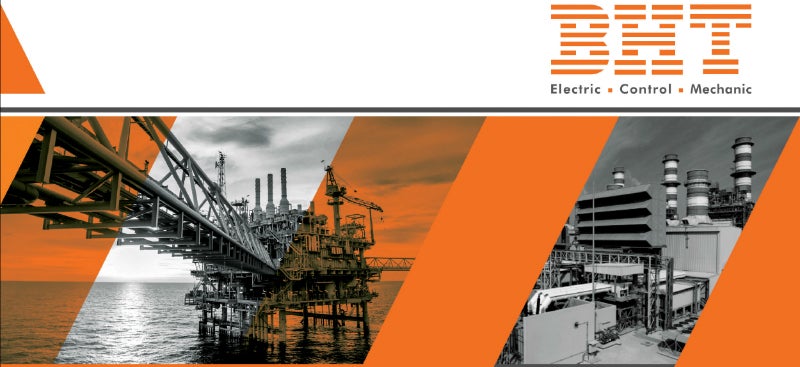 BHT Electric-Control-Mechanic GmbH has more than 30 years' experience as a multi-service provider of manufacturing and engineering high-quality parts such as turbine components, electrical and control modules, analog and digital boards, as well as instrumentation devices for fossil power generation, petrochemicals, oil and gas, cement and steel industries worldwide.
In addition, we also provide procurement of spare parts and OEM products, machinery, international trading, as well as engineering and reverse-engineering.
At BHT, we focus on offering customers spare parts in five main categories:
Electrical parts
Control modules (analog / digital boards) and automation systems
Mechanical spare parts and turbo-machinery components
Instrumentation products
Raw materials
Reverse-engineering and manufacturing services
If your original supplier no longer exists or a product or part has been discontinued, we can help. It doesn't matter what product you need, we offer wide range of spare parts for turbines, from re-engineered electrical devices, control boards and mechanical components, to any custom-designed parts to meet your exact configurations and specifications.
Our engineering and reverse engineering services comprise material and quanto-metric analysis, metallography, 3D and optical modelling, coordinate-measuring machine (CMM), technical drawings, sophisticated method of manufacturing and quality control. Our quality control process ensures that all replacement supplied parts meet OEM specifications.
Electrical and control spare parts for power plants
With our electrical spare parts services, we have provided our business partners with components that include circuit boards, analog and digital cards such as PT8153 and LUKOMAT LE-modules, DCS, PLC and Field BUS modules, turbine monitoring and control systems, power supplies, transduces, relays, electrical semi-conductors and circuit breakers, as well as highly advanced Siemens control cards (SIMATIC S5, S7, PG Field M). We have also supplied many more electrical spare parts of well-known OEM suppliers such as BBC, Alstom, Skoda, AEG, GE, Fanuc, Allen-Bradley, ABB, Elsag Bailey (network & INFI 90), and Yokogawa.
Mechanical parts and components for power applications
With our mechanical spare parts, we have provided business partners with a vast range of items, including:
Turbo-machinery and rotatory parts
Steam and gas turbine blades and vanes
Non-magnetic retaining rings for generators
Turbine segments and heat shields
Fuel and gas nozzles
Burners, such as fuel oil burners
Combustion chambers
Inner casing parts, such as discs, bolts, expansion screws, nuts, discs, pins, break holders
Spare parts for V94.2, V94.3 and BBC13D turbines
Insert rings for hybrid burners
Sealing-divided rings
High-pressure and low-pressure steam valves
Bypass and stop valves
Actuators
Gear-couplings, hydraulic-couplings
Bearings and housings (SKF, FAG, INA, NSK, FAFNIR, Luk, TIMKEN)
Gear boxes
Journal bearings
Pumps and compressors
Tubes, fin-tubes and air preheater baskets of boilers.
There is much more in our product range. If you are looking for a specific component, please contact one of our sales representatives to find out more
Instrumentation products and equipment
BHT is also well-positioned when it comes to instrumentation products. For more than 30 years, the company has been providing superior services to business partners, with numerous parts and products supplied.
Our instrumentation offering includes thermocouples, gas probes, flame scanners, pressure switches and gauges, flow meters, speed and vibration sensors, micro-switch positioners, probes, shaft encoders, firefighting spare parts, detectors, coils, lamps, fans, pressure and signal calibrators, converters, transmitter and transducers.
Filters, metal alloys, seals, gaskets and raw materials
In addition, to the services and products mentioned above, BHT has been able to supply and export products such as any kind of filter and filter element (PALL, HYDAC, PARKER, VICKERS), seals and gaskets, oil and lubrication, anode and cathode for electrolysers, chains, TANCA roll-rings, heating equipment and solar panels, as well as raw materials such as metal powders, insulation materials, gypsum additives, metal alloys and refractory materials.
Why should you work with BHT? The answer is four simple reasons:
Superior customer service
Competitive prices
Best in class, when it comes to delivering goods on time to our business partners around the world
Brilliant German Engineering in our state-of-art facilities in our company's headquarter location in Köln, Germany
A brochure of BHT's products and services, including turbine mechanical components, electrical components and automation and data components.
The Republic of Zambia government initiated the construction of the 750MW Kafue Gorge Lower (KGL) hydroelectric power station on the Kafue River in the southern Chikankata district, 90km away from the Lusaka, the capital and largest city of Zambia, in November 2015.
BHT Electric Control Mechanic GmbH & Co. KG
Hansaring 61
D-50670 Köln
Germany