Precimeasure Controls is a leading global manufacturer and exporter of temperature indicators and controllers for power transformers, distribution transformers, dry-type transformers and industrial process control equipment.
Based in Bangalore, India, the company offers a wide range of products of both conventional mechanical instruments and electronic instruments.
Founded as a manufacturer of conventional mechanical instruments in 1984, Precimeasure Controls has emerged as a prominent manufacturer of temperature measuring and monitoring devices for various applications in the power sector.
Precimeasure have now expanded into various other avenues like digital electronic instruments with communication connectivity and associated accessories for SCADA in substation automation.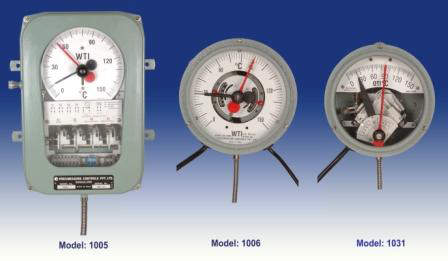 Precimeasure offers world-class winding temperature indicators for transformers.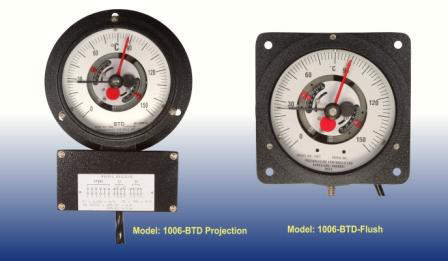 The bearing temperature indicators are engineered to monitor and control the temperature.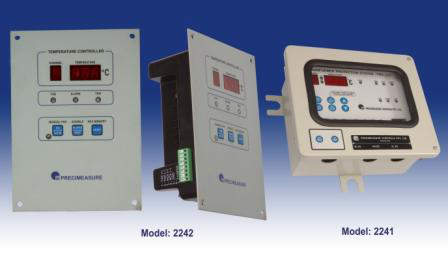 The temperature scanners indicate temperature of LV winding of dry type transformers.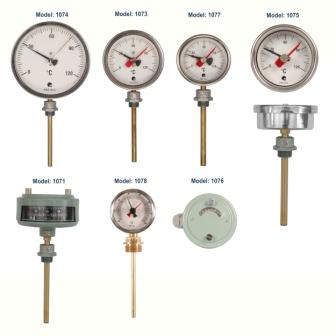 The temperature controllers (bimetallic instruments) are designed to indicate oil temperature in distribution transformers.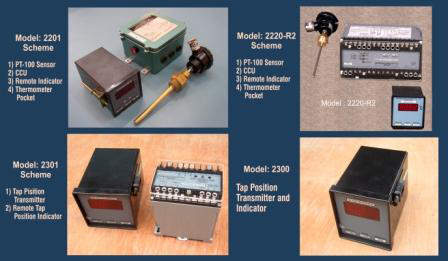 The digital signal converters and transmitters indicate oil / winding temperature of oil-immersed transformers in remote control room.
Our range of products include:
Oil and winding temperature indicators
Digital signal converters and transmitters
Tap position indicators / transmitters
Temperature scanners and controllers
Bi-metal type temperature indicators / controllers
Bearing temperature indicators
OIL / WINDING TEMPERATURE INDICATORS
Precimeasure offers Oil Temperature Indicators (OTIs) and Winding Temperature Indicators (WTIs) for transformers. The WTI measures the hot-spot winding temperature of the transformers. The cost-effective WTIs are available in different models. This is basically an OTI with additional heater coil connected to CT.
The WTI is very essential for smooth running of a transformer as impacts the life of transformers and causes deterioration of the insulating material. Both OTI and WTI are fully compensated for ambient temperature changes in line and case. They are available with up to 50mof capillary length and up to four control switches.
DIGITAL SIGNAL CONVERTERS AND TRANSMITTER SCHEME:
Precimeasure electronic instruments are known for their accuracy and repeatability for longer periods. These instruments are electrically isolated from input power supplies and hence safe to use in a computerised data acquisition system or recorder.
The scheme is used to indicate the OTI / WTI of oil-immersed transformers in remote control room. This has an output of 4mA to 20mA DC proportional to the temperature range.
Precimeasure Controls manufactures a wide range of electronic instruments to meet all the requirements of transformer industries.
TRANSFORMER – TAP POSITION INDICATOR / TRANSMITTERS:
Precimeasure offers tap position transmitters and indicators that are used to indicate the tap position of the on-load tap changers employed in power transformers. The on-load tap changer changes the output voltage of transformer, maintaining a reasonably constant voltage by selecting the proper tapping in the transformer winding. The tap position is indicated in numbers depending upon the numbers of steps used in the tap changer.
BI-METALLIC TEMPERATURE CONTROLLERS
The company also offers more economical bi-metallic instruments, which are designed for indicating the oil temperature in distribution transformers. These bi-metallic temperature controllers are also used in industrial, pulp and paper, food and beverage processing, HVAC, and OEM applications. These instruments are mounted directly on the equipment to measure the temperature and are capable of working at ambient temperature from minimum of -20°C to a maximum of +60°C.
Bi-metallic temperature controllers consist of a helical bimetal coil, which expands or contracts according to the changes in temperature. This expansion or contraction operates the switches and indicating pointer.
TEMPERATURE SCANNER
Precimeasure's temperature scanners are used to scan and display the temperature of the LV winding of dry-type transformers. Designed and engineered to scan temperature at maximum accuracy level, temperature scanners display winding temperature continuously. Based on the differential values programmed by the user, the users are immediately alerted when it records unusual temperature levels.
The scanners are based on advanced microcontroller technology for better accuracy, self-testing and automatic calibration for complete range. They are protected from surge, transient suppression, radio frequency interference, electrical noise and electromagnetic interference.
The company offers temperature scanners in two models – the RTD-based temperature scanner (model 2241) and thermocouple-based temperature scanner (model 2242).
AIR / BEARING TEMPERATURE INDICATORS
Precimeasure exclusively designs air / bearing temperature indicators to meet different types of requirements in the power sector. This is a high-performance, precision micro-switch instrument with ±2°C accuracy, capable of temperature monitoring, indication and control for the protection of motors and generators bearings.
The company customises bearing temperature indicators as per requirements in the industry.