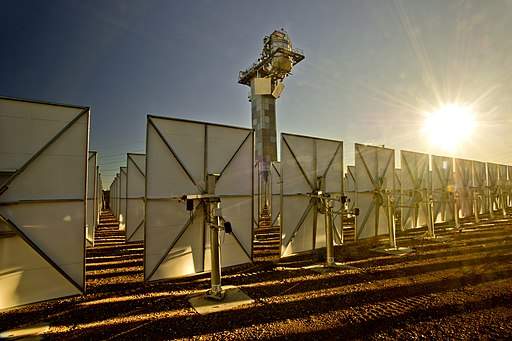 1) University of Western Australia, Wave Energy Research Centre,  Albany
The Wave Energy Research Centre, an initiative led by the University of Western Australia in collaboration with Carnegie Clean Energy, is designed to measure ocean waves and currents.
Two buoys designed by Carnegie collect data on wave height, direction, period and surface current speed, with the information transmitted via satellite to the Centre for analysis. The data gathered will then be used to improve the placement, survivability and performance of Carnegie's CETO6 wave energy converter device.
The State Government has invested $3.75m in the Centre as part of an overall $19.5m investment in the Albany Wave Energy Project.
2) Flinders University, solar panel park campus, Adelaide
A project at Flinders University will see just under 6,000 solar panels installed on buildings at the park campus, and will also see the inclusion of a solar carport for autonomous campus shuttles.
Capable of generating 2,700 MW/h of electricity annually, the Flinders solar array is one of Adelaide's biggest solar projects. The 1.8 MW rooftop system will cost $4.895m and is expected to provide the university with 20% of its energy needs.
Scheduled for completion in October this year, the project will join Adelaide Airport's 1.2MW system, the new Royal Adelaide Hospital 1 MW microgrid and the 1 MW rooftop system at the Royal Adelaide showgrounds in the state's attempts to boost renewable energy generation.
3) SETup, community solar systems, Northern Territory
Solar Energy Transformation Program (SETup), a $59m project established by Power and Water and supported by ARENA and the Northern Territory Government, will see the installation of solar systems in 28 remote Aboriginal communities.
Once completed, the four year programme will provide 10 MW of solar photovoltaic power into the energy mix of 25 communities across the Northern Territory. The majority of the sites are being set up with energy from the solar panels fed into the local grid, acting in addition to existing diesel generation and saving 15% on fuel as a result.
4) Nano-Nouvelle, battery storage, Queensland
Materials technology company Nano-Nouvelle is seeking to create the next big thing in battery storage with their Tin Nanode. Using nanomaterials as a platform technology, the firm has developed a tin-based anode for lithium ion batteries which will improve batteries' lifespan by 50% without increasing their size.
The new battery is expected to be used in smartphones and electric vehicles, as well as specialised devices such as drones, and can be used in energy storage for the integration of wind and solar into power grids.
5) SolarReserve, Aurora solar plant, Port Augusta
The Aurora solar thermal plant is expected to provide 100% of the state government's energy needs by 2020.
The $650m, 150 MW plant will use mirrors and solar power to heat molten salt and generate electricity. The site will deliver more than 500 GWh annually and on-site storage will allow the station to operate like a conventional coal or gas power station, generating electricity during the day and night.
American firm SolarReserve is going to begin construction of the project this year, with an expected 650 jobs created during the building process.
6) AllGrid, self-funded solar storage, Queensland
Queensland-based startup AllGrid has developed a solar power energy storage device, dubbed WattGrid, which contains batteries designed to be charged by consumers' solar panels during the day.
The stored energy is then delivered to users' homes when needed, saving consumers on the cost of purchasing energy from the retailer. Any unused electricity gets exported back to the grid. The system allows users energy independence and a source of power backup during blackouts.
The company predicts that with 4 kW of solar panels combined with the WattGrid device, customers can save up to 17kWh per day, or 70% of average daily use.
7) Victoria Government, Microgrid Demonstration Initiative, Melbourne
The Victorian Government has set up a microgrid funding scheme dubbed the Microgrid Demonstration Initiative (MDI), introduced as part of the Labor Government's $146 million Renewable Energy Action Plan.
Intended to reduce energy bills for home and business owners in the state's multi-tenant buildings, the grant programme will provide a $10m grant to microgrid projects across the state.
One such project is the Ovida Community Energy Hub, a $2m project that will fit three test buildings in Melbourne with shared solar panel and battery systems. The initiative is expected to generate 5000 kWh of solar energy and support 11,000 kWh of energy storage for 650 customers.
8) ClearVue Technologies, Solar windows, Perth
ClearVue, a firm in the Building Integrated Photovoltaic (BIPV) sector, works to incorporate solar technology into glass and building surfaces to produce renewable energy.
The company's solar windows, developed in collaboration with experts from the Electron Science Research Institute at Edith Cowan University in Perth, consist of a glass lamination interlayer doped with inorganic micro and nano-particles. ClearVue has also managed to fit the solar cells into the glass itself, negating the need for a specialised frame.
The firm describes the material as "highly energy efficient, clear glass that generates electricity."
9) Tasmanian Government, Battery of the Nation, Tasmania
The Tasmanian Government's battery project, dubbed Battery of the Nation and supported by ARENA funding, will used pumped hydro energy storage to stabilise the nation's energy network. Renewable energy will be stored in the form of water pumped to a dam using solar or wind power, producing energy by passing through turbines.
Hydro Tasmania data predicts pumped hydro could generate 4,800 MW of potential capacity across 14 Tasmanian sites. The project is also predicted to create thousands of jobs over the next 15 years and draw in billions of dollars' worth of investment.
Construction of the first project could begin in 2020, with a three to four year construction period.
10) Australian Renewable Energy Agency, Clean Energy Innovation Hub, Perth
The Australian Renewable Energy Agency (ARENA) has invested $1.5m in the Clean Energy Innovation Hub, the first green hydrogen (H2) innovation hub in the country. The site is located at Atco's operations facility in the Perth suburb of Jandakot, Australia.
The site will be powered with 1,100 solar panels paired with battery storage, diverting excess energy to produce green H2 in a carbon free process. The hub will also be used to explore possible alternative means of storing surplus renewable energy as H2, and will feature a display home where the hydrogen will be tested in domestic appliances that typically use natural gas. Operations are predicted to begin by March 2019.