Fossil fuel free by 2050: Danish Energy Minister Martin Lidegaard explains how
Denmark plans to run its entire energy system on renewable energy by 2050, with wind as its main power source. But how will it cope with issues such as energy distribution and storage, wind fluctuation and the unavoidable energy price hikes associated with long-term investment? Elisabeth Fischer speaks to the Danish Energy Minister Martin Lidegaard and the country's leading industry experts to find out how they plan to tackle these challenges.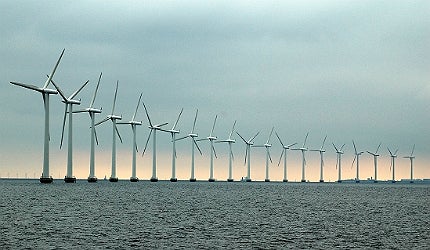 When the Danish Government announced its plan to run the country's entire energy system on renewables by 2050, many neighbouring nations reacted with caution to the news. Critics said that the government's Energy Agreement would be too expensive, too ambitious, that they were asking for too much too soon.
"Energy companies have to double their efforts to get their customers to buy less of the products they're selling."
But in the little northern-European country itself, policy-makers, the power industry, the public and the media have all backed the plan. For them, renewable energy, with wind power as its centre point, is the only way to go and becoming wholly independent from fossil fuels within the next three decades is a natural step.
Denmark has always been an expert in renewable energy, and wind power in particular. After the oil crisis of the early 1970s, it heavily invested in onshore and offshore wind farms and has become a specialist in wind turbine technology. Nuclear energy has never been an option due to strong public and political opposition and, with carbon fuel prices on a constant rise, a completely fossil-fuel free society seems to be the best option to cater to rising energy demands.
Even though the excitement is huge, the involved parties have also realised that reaching this goal is not going to be a walk in the park. Challenges such as wind energy storage and power distribution still need to be tackled and huge investments need to be made now. But if everything goes right, Denmark could establish itself as a green leader in the global wind and renewable energy sector, leaving other countries such as the US, Germany and the UK firmly behind.

Denmark's Energy Agreement to 2050
---
Related project
---
Anholt Offshore Wind Farm is a large-scale wind farm being built between Djursland and the island of Anholt in the Kattegat.
---
Announced on 22nd March 2012, the government's Energy Agreement intends to implement a completely fossil-fuel free society by 2050. This will include the whole energy and heating sector and, perhaps most ambitious target, an entirely fossil fuel free transportation sector.
As a first step, the country aims to achieve a 34% reduction in greenhouse gas emission compared to 1990 by producing one-third of its energy from renewable sources, in particular from wind, by 2020. By 2030, all coal production is to be abolished and by 2035 all electricity and heating production is planned to be fossil-fuel free. In the last and most important step to 2050, all fossil fuel sources will be eradicated, including within the country's transportation sector.
The main focus is on onshore and offshore wind power, which will cover around half of the country's electricity consumption, as the Danish Minister for Climate, Energy and Building Martin Lidegaard explains. "Denmark has a huge potential for offshore wind production," he says. Other renewable sources will include bio-energy, biogas, geothermal and solar energy.
The government has pledged to add a total of 3,300MW of new wind power capacity, which will enhance the capacity to 2,000MW of produced wind power before 2020. A big part of it will come from two new large offshore wind farms at Kriegers Flak between Denmark and Germany (600MW) and at Horns Rev of the west coast of Jutland (400MW). The rest will be provided by wind turbines on land, as well as offshore wind turbines in coastal areas.
Clean power but higher energy prices
The new installations will come at a high cost. "It's estimated that investments (households, enterprises) in energy saving measures, RE-production and infrastructure will be in the range of €12-20bn until 2020," says Lidegaard. He says that some of the expenditures will have to be covered through an increase in energy prices and investments made by consumers themselves.
"We are aiming for a system where we have a high degree of coherence between the electricity, the gas, the heating and the transportation system."
"The rather small extra costs could be seen as an investment in making the future more robust and less vulnerable to price peaks triggered by geopolitical events," he adds. "Furthermore, the small extra costs are introduced slowly and will not be fully introduced until 2020. Therefore there will be time to adjust."
One of the biggest Danish wind power and renewable energy lobbyists is green think tank CONCITO, which has also played an instrumental role in reaching the Energy Agreement, according to its director Thomas Faergeman. When asked about the expected hike in energy prices, he says that energy consumption will have to be reduced by one-third in the next few years, opening up a huge market for energy efficiency with smart metering most likely to play a crucial role.
As part of the Energy Agreement, energy companies have also received higher targets for achieving energy consumption. "The targets have been upped very much," says Faergeman. "Energy companies have to double their efforts to get their customers to buy less of the products they're selling. This can seem a little bit absurd but actually it has proven to be very efficient to pay the energy companies to ensure energy savings in businesses and private households."
Wind power: storage and distribution challenges
The biggest challenge in the years to 2020 however comes with the storage and distribution of wind energy. Faergeman explains: "What we do realise now is that of course it's a major challenge to get so much wind power into the power system because wind power by nature is very fluctuating. The answer to that is a further expansion of transmission lines between Denmark and Germany, Norway and Sweden."
---
Related project
---
The 160MW Horns Rev (Horns Reef) offshore wind farm has 80 turbines off the west coast of Denmark's Jutland peninsula.
---
There is also talk about trying to establish a British-Danish net connection. The two country's main grid operators, the UK's National Grid and Denmark's Energinet.dk, announced in late April that by the end of 2012, they will publish an initial interconnector study, detailing potential landing points, capacity and how a power cable could integrate into a North Sea super grid to connect the offshore wind power.
Peter Jørgensen, Energinet.dk vice president of international relations, who talks about a 'paradigm change' in the sector, says that in the long run the only solution would be a smart grid. "The only way to make this work is to have a very intelligent control of your system," he says.
As part of the work, a smart grid development project has been launched on the island of Bornholm, offshore Denmark. The EU-subsidised EcoGrid EU was the only smart grid project that made it on to the United Nations sustainability list at the Rio+20 meeting in June 2012, which Jørgensen sees as a great sign.
To balance the fickle nature of wind power, Energinet.dk will count on a combination of a very strong and substantially sized pan-European transmission grid and a highly flexible and smart generation and demand system, explains Jørgensen. Only then will the country be able to secure price flexibility and store energy for use when the wind is still. Engineers are currently looking at new proposals to generate heat from electricity when it is available and then using it later.
Jørgensen adds that some research is, for instance, going into the conversion of wind power into gas, which could be stored in the country's vast natural gas system and be used to generate electricity and heating when necessary. "We are aiming for a system where we have a high degree of coherence between the electricity, the gas, the heating and the transportation system," he says. All projects are however still very much in the development stage.
Shale gas versus wind power
"We should fix climate change by moving from very-polluting coal, to much less polluting gas."
This all sounds very positive, but one outspoken critic, Danish environmental writer Bjorn Lomborg, disagrees. "Putting up windmills makes us feel good," Lomborg said in an interview with BBC Radio 4 in April 2012, talking about the government's plan.
"But this will reduce economic growth. (…) Green energy is much more expensive than fossil fuels. We should fix climate change by moving from very-polluting coal, to much less polluting gas."
The best possible solution for Lomborg would be to harness shale gas stored underground, which some industry experts hail as the new clean and most abundant source of energy. Denmark's Martin Lidegaard is convinced however that shale gas does not provide any solutions to the country's future energy problems.
"In my view renewable energy is the only option for Denmark in the long perspective," he says. "There is a broad consensus in Denmark on this issue not only in parliament but also in the energy sector and in the industry. Nobody can tell today what the future will bring, but in my view it could very well be the situation that sticking to the fossils could be the [most] expensive solution."
Even though the path from 2020 to 2050 is still unknown, Lidegaard is convinced that the agreement will work. All the initiatives started now are using well-known technologies in order to find the answers for the longer perspective, he states.
Good research and established technologies, which have been in place for years, have proven crucial for the process so far, says Thomas Faergeman. He is certain that having a high-tech worthy society which relies 100% on wind power and renewable energy by 2050 will be possible. "It is a very long and challenging process but we will manage," he says.