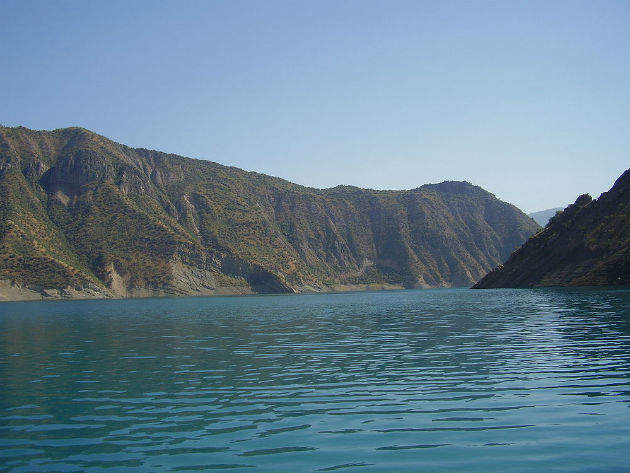 Bordering Afghanistan, Viloyati Mukhtori Kuhistoni Badakhshon (VMKB) is a remote, mountainous, rural area in the Pamir Mountains of eastern Tajikistan where winter temperatures can fall to a stark -30°C.
For the local community living in this already unforgiving environment, life became even harder after the collapse of the Soviet Union in 1991, when much of the region's electricity supply was cut due to the destruction of the transmission infrastructure during the five-year-long civil war, and withdrawal of fuel subsidies for generators.
As such, locals have lived without access to reliable and affordable electricity since the early '90s. The lack of electricity for heating had major social impacts; schools, health centres and businesses closed and people were forced to rely on dangerous kerosene, coal, dung and firewood to light, heat and cook in their homes. These fuels have had a high environmental cost too, with around 70% of the region's forests being destroyed in the decade following the war.
In 2002, the Government of Tajikistan decided to re-electrify the region, but it knew it couldn't tackle the problem alone.
Public-private partnership
To tackle the problem Pamir Energy was born – the first ever public-private partnership in Tajikistan was formed by the coming together of The Aga Khan Fund for Economic Development (AKFED) and the International Finance Corporation.
The new business would use government will as well as corporate knowledge and efficiency to repower the region by reviving 11 abandoned hydropower plants and upgrading 4,300km of old transmission and distribution facilities. Today the company brings clean, affordable and sustainable energy to 96% of the population in this remote region, totalling around 254,000 people, including parts of neighbouring Afghanistan.
"Today the company brings clean, affordable and sustainable energy to 96% of the population in this remote region, totalling around 254,000 people."
Government and private sector collaboration has been challenging, according to general director of Pamir Energy, Daler Jumaev, who says the company relied on local insight and building on local capacity to bring electricity to the area.
"We are working in very hard climates, in remote areas where there are issues with transportation and logistics and different types of natural hazards and very low human development factors, especially in Afghanistan," explains Jumaev.
Through the Pamir Energy project, the Tajikistan Government effectively handed over local infrastructure to the company, which, in turn, attracted private direct investment.
The initial investment for the project was $26m, but today is $53m, says Jumaev, who is also an electrical engineer and was previously a consultant before heading up Pamir Energy for the last ten years.
"We understand we are a little bit different from normal private sector companies, our shareholders are fond of economic development in very challenging areas," he says. "We bring the financial discipline of the commercial sector but we are very socially minded, so whatever revenue we make we reinvest it into the ageing assets."
Rebuilding old energy assets
The region's original electricity network was built in the 1960s and 1970s, so when Pamir Energy took over the 1,100 hydropower plants and 4,000 networks the infrastructure was in a critical state. The firm had to rehabilitate in some places and build completely new power plants or transmission and distribution lines in other places.
The plants are run-of-the-river hydropower plants which do not require a dam. Water is diverted from the river via a channel to create enough elevation above the power house. The water is held in a forebay before flowing down a pipe into the power house where it turns a turbine which generates power. The water exiting the power house then flows back into the main river. Power is distributed along low-loss transmission and distribution lines.
Ten of the 11 plants are linked together while two are connected to mini-grids. Today, the capacity of the network is 42MW, with the company looking to add an extra 11MW, and another pipeline project of 100MW.
After 25 years, the company, which has also received funding loans from the World Bank, will hand the energy infrastructure back to the government. So far, it has rehabilitated one third of the network and in the next ten years plans to rehabilitate the rest: "So when we hand it back it doesn't fall apart straightaway but can serve for another ten to 20 years," says Jumaev.
Creating affordable tariffs
It is important that the energy is affordable for customers but also that it's sold at a level where the company can meet its operational and financial costs.
Pamir offers two tariffs: one for commercial and government entities and another, cheaper one, for domestic customers. To ensure everyone can afford basic levels of power, the government created a Customer Support Scheme (CSS), which provides greatly reduced tariffs, during the critical winter months, with up to 68% discounts, for those consuming relatively small amounts.
This support ensures that consumers do not revert to animal waste, coal and wood, and still have cash leftover for food, healthcare and other critical needs.
"People using the subsidy was as high as 35% when we started but today it is 5%-6%; the consumption now is much higher, and because of that the subsidy is much less," says Jumaev, adding that payment collection is 100%.
"This is one of the areas where the company's 15 years of operation has significantly improved, people are enjoying access to electricity so it has increased their willingness to pay and now, normally, we don't have an issue," he says.
Since 2014, smart meters have been installed to allow the company to monitor usage and regulate supply to match demand. They can also be used to cut off supply remotely for defaulting customers. The system is also ready to accept mobile payments.
Social impact
Pamir expanded into North Afghanistan in 2008 and currently services around 4% of the province, but the company's ambition is to electrify 50% of the region.
In Afghanistan, the company has a purchase power agreement with the state utilities; it puts in the infrastructure, electrifies it and then hands it back. Roughly five million people live in this area and it has one of the lowest education rates in the world, but access to energy resources can instigate change.
"Where we have electrified in Afghanistan there is no Taliban because it has proven that if you bring social economic development to those areas people will have zero tolerance for the Taliban," Jumaev says.
"here we have electrified in Afghanistan there is no Taliban because it has proven that if you bring social economic development to those areas people will have zero tolerance for the Taliban."
The Taliban, he added, operate by sending one or two people to remote regions to try and recruit the local people.
"I stayed overnight in a very conservative Afghanistan community who knew that we were bringing electricity from Tajikistan to the neighbouring areas. A gentleman said to me: 'you are doing a good job but you are very slow'," explains Jumaev.
"I told him the project cycle and the issues with security and he didn't buy it," he continues. "He said 'if you bring electricity you will bring security'.
"Because of this we are going into very challenging areas where there is no infrastructure because we believe once you bring electricity the number of small-to-medium enterprises increases.
"Furthermore, women and children are not spending four or five hours collecting wood, they are spending time socialising and children are studying more as they have light at night."
Future expansion into remote regions
The company is already demonstrating its capabilities in North Pakistan and hopes to start work in the wider region soon.
In 2027, Pamir Energy is due to handover East Tajikistan's energy infrastructure back to the government, but hopes this contract will be extended further.
The government has been working on commercialising the energy sector and over the next ten to 12 years plans to privatise it fully, which Jumaev says, if it works out, "we are going to be a part of this".
As for the £20,000 Ashden Awards prize fund, Jumaev says it will go towards doing what Pamir Energy has proven to do best: "Building one more mini-hydro plant in the middle of nowhere."