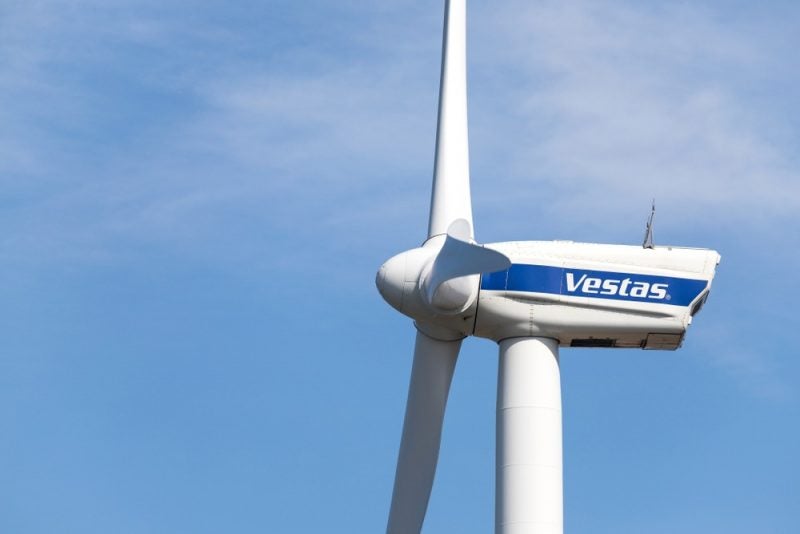 Danish wind energy company Vestas Wind Systems has agreed to sell its majority stake in three windfarms in Romania. The 80% stake in the Pantelimon, Pegasus, and Apollo windfarms will be sold to an unknown buyer for around $150m (€136m).
Vestas expects that the deal will take place in the next eight to ten weeks as it still needs approval from the Romanian Competition Council.
The company's share price decreased by 5% on the Copenhagen Stock Exchange, from Dkr519.60 to Dkr493.20 a share. This is a drop from Vestas' peak of Dkr612.60 a share on 25 April.
Vestas' share price, 29 August
Vestas
Vestas is the largest onshore wind energy company in the world, having installed 10.1GW of onshore wind power worldwide in 2018.
The Romania sale would represent the third deal that Vestas has made in 2019. In April 2019, the company bought a 25.1% stake in German renewable energy company SOWITEC, with an option to buy the company outright in the next three years.
In June 2019, the company also bought a majority stake in the Winterbourne windfarm from Walcha Energy in New South Wales, Australia, for an undisclosed fee.
Romania and renewable energy
According to a report published by European Union (EU) statistical office Eurostat in February 2019, Romania has already exceeded its target of 24% of its energy mix coming from renewable sources by 2020 in 2017, when it already had 24.5% of its energy coming from renewables.
However, it has been pointed out that Romania's wind energy capacity has stalled, with no new wind turbines installed in the country since 2016.
The blame for this has been placed on corruption and government crises that have affected the country for several years. For example, the country ranks 61st out of 180 by Transparency International and its most recent coalition government has fallen apart.