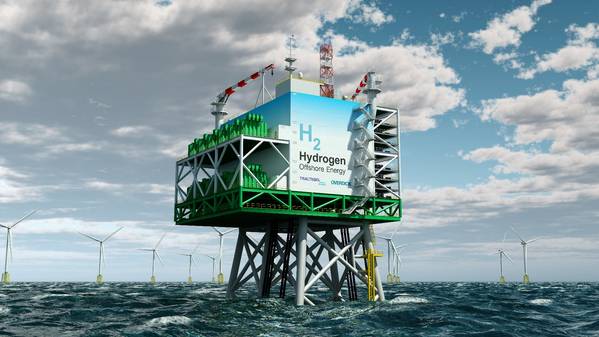 Power consultancy Tractebel are developing an offshore platform that will produce environmentally friendly hydrogen from offshore wind energy at an industrial scale.
The platform uses electrolysis to deliver 400 MW, which Tractebel say exceeds the output of previous technologies, and is ready to put into practise in areas like the North Sea..
The company are confident the role of hydrogen is gaining importance in the energy mix, because the proportion of "green" hydrogen or H2 derived from renewable sources can be increased on a carbon-neutral basis. In addition, the method effectively stores energy and the multiple transportation options of hydrogen provide relief for the electricity transmission grid, the capacities of which are limited. Furthermore, hydrogen can balance out seasonal fluctuations in renewable energy sources.
Tractebel sees potential for carbon-neutral production of green hydrogen in large-scale offshore wind farms and its team is currently working on a detailed solution for the use of the new platform at an industrial scale. Currently, it accommodates all the technical components required for production – including electrolysis units, transformers and desalinisation plants.
Another benefit of the platform is that transportation of energy generated in this way is flexible and can be transmitted by pipelines or ships. These transport means are alternatives to the contentious or overloaded cable lines – in the sea or over land.
In terms of cost, the price of green hydrogen is higher than the cost of production of "grey" hydrogen derived from fossil sources, but a higher tax on carbon dioxide emissions will ensure opportunities for the more environmentally friendly version.
Tractebel specialises in consultancy and engineering services throughout the life cycle of its clients' projects in energy, water, and infrastructure. As part of the energy company Engie, Tractebel delivers and operates offshore hydrogen platforms as an EPC supplier and offers solutions for large-scale storage across Europe, Africa, Asia, Middle East, and Latin America.