Houston University develops 'solar steam' technology
A new method to convert solar energy directly into steam using nanoparticles has been developed by scientists at the Rice University in Houston, Texas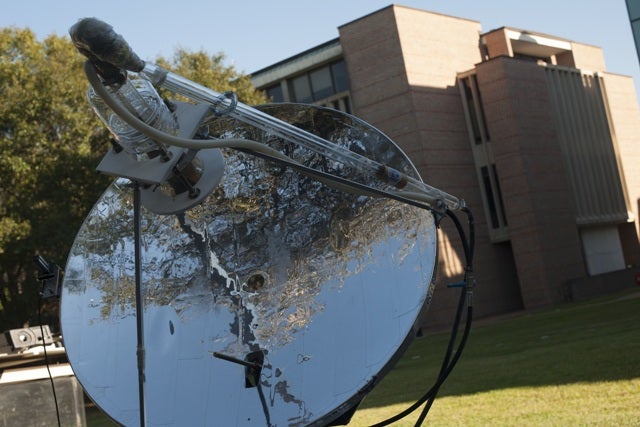 A new method to convert solar energy directly into steam using nanoparticles has been developed by scientists at the Rice University in Houston, Texas
The new method called 'solar steam', developed in the university's Laboratory for Nanophotonics (LANP), can effectively produce steam, even from icy cold water.
Light-capturing nanoparticles can convert sunlight into heat and increase the efficiency of solar steam technology.
Such particles being exposed to sunlight and submerged in water, takes very little time to heat up and instantly vaporizes water and creates steam, according researchers at Rice.
A study, published in the ACS Nano journal, shows that the new technology has an overall energy efficiency of 24%, while photovoltaic solar panels show overall energy efficiency of around 15%.
Initial use of the steam method would be for sanitation and water purification in developing countries rather than for electricity generation, according to the technology's inventors.
LANP director and the lead scientist on the project, Naomi Halas, said: "With this technology, we are beginning to think about solar thermal power in a completely different way."
"We're going from heating water on the macro scale to heating it at the nanoscale. Our particles are very small – even smaller than a wavelength of light – which means they have an extremely small surface area to dissipate heat.
"This intense heating allows us to generate steam locally, right at the surface of the particle, and the idea of generating steam locally is really counterintuitive."
Rice University graduate student and the lead co-author on the paper Oara Neumann highlighted the efficiency of solar steam and noted it does not require acres of mirrors or solar panels.
"In fact, the footprint can be very small. For example, the light window in our demonstration autoclave was just a few square centimetres," Neumann added.
---
Image: developing countries will be the first benefit from the solar steam technology. Photo: courtesy of Rice University.