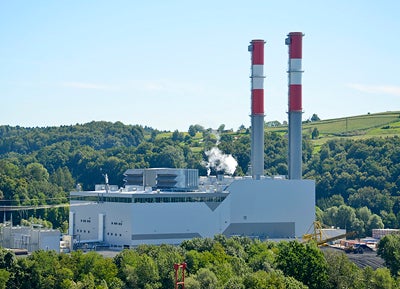 Siemens has unveiled its new 838MW Mellach combined-cycle power plant (CCPP) in Austria.
The project has been delivered for Verbund Thermal Power, an Austria-based electric utility. The plant runs on natural gas and has an efficiency of 59.2% in straight power generation.
The Mellach CCPP is expected to produce around 5bn kWh of electric power annually and about 800m kWh of district heating.
Siemens CEO of Energy Fossil Power Generation, Roland Fischer, said: "The Mellach combined cycle power plant meets the highest standards in terms of efficiency and flexibility."
Verbund Thermal Power board member, Walter Mayer, said: "Heat-and-power cogeneration also brings an immediate advantage for the Graz metropolitan area, where dust-free district heating makes an effective contribution to improving air quality."
Siemens constructed the plant and provided two SGT5-4000F gas turbines, two SST5-5000 steam turbines, two SGen5-2000H generators and two transformers for the CCPP. Siemens also supplied all electrical equipment, the SPPA-T3000 instrumentation and control system for the plant and it will maintain all the components.
Siemens designed the plant's two new units ten and 20 as single-shaft plants with major components arranged on the same shaft.
The plant cools unit ten with fresh water and has a cooling tower for unit 20 to comply with the local water pollution control regulations.
The district heating output of 400 MWth means more than 80% of the energy in the fuel is put to effective use.
---
Image: Siemens supplied all the electrical equipment for the 838MW Mellach combined-cycle power plant in Austria. Photo: courtesy of Siemens.