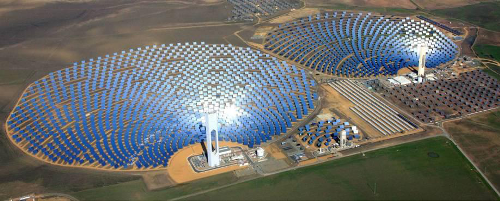 Sustainable development company Abengoa has begun commercial operations of the second phase of the 200MW Extremadura Solar Complex in Spain.
Located in Logrosan, Caceres, the second phase is comprised of two identical 50MW parabolic trough plants, Solaben 1 and Solaben 6.
Europe's largest solar complex, Extremadura features four parabolic trough plants of 50MW. The first two plants, Solaben 2 and Solaben 3, were brought into commercial operation in December 2012.
Owned 70% by Abengoa Solar and 30% by Itochu, each plant features 360 E2 parabolic trough collectors spanning around 280 acres. Abengoa Solar will provide operation and maintenance services for the entire complex.
The project, which will generate enough electricity to power 104,000 households, has created 700 direct and indirect jobs during the construction and around 85 to 90 permanent jobs for the project operation.
The complex is equipped with parabolic trough technology, which consists of a field of collectors that follow the movement of the sun and whose parabolic-shaped mirrors concentrate the sun's rays on receiver tubes that run through the focal point of the trough.
In the receiver tubes, heat transfer fluid heats to around 400°C and circulates through heat exchangers, producing steam. This generates electricity using a conventional steam turbine.
---
Image: Extremadura Solar Complex in Spain becomes fully operational. Photo: courtesy of Abengoa Solar.