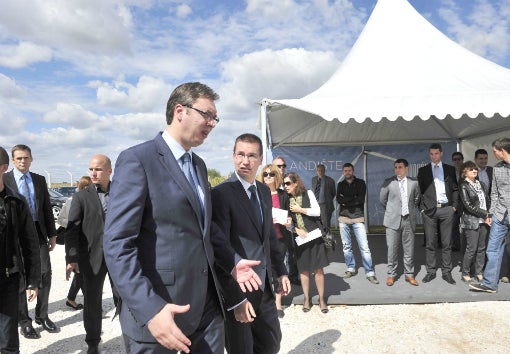 Serbian oil and gas firm Naftna industrija Srbije (NIS) has commenced construction on the 102MW Plandiste wind farm in Vojvodina, Serbia.
To be implemented by joint venture NIS Energovind, the project will feature 34 3MW wind generators, covering an area of 4,500ha in the Plandiste municipality.
NIS Energovind is currently in discussions with prospective companies/suppliers of equipment and expects to finalise the vendor for the project by the end of the year. Construction is expected to be completed by the end of 2014.
The €160m project is expected to generate around 212GWh of electrical power annually, to be sold to the state-owned company Elektroprivreda Srbije.
CO2 emissions will be reduced by around 330,000t. This is the first clean development mechanism project approved by the Serbian DNA.
NIS acquired a 50% stake in the Plandiste project from Energowind in December 2012. Energowind erected two 60m masts in February 2008 and a 125m mast in January 2011 to monitor wind conditions for the construction of the project.
NIS CEO Kirill Kravchenko said that the project will help Serbia to meet European energy policy requirements and increase the share of clean energy in the national energy balance.
"Generating electricity from a renewable source we reduce both environmental risks and our own costs, which is extremely important in a difficult economic situation," added Kravchenko.
---
Image: Serbia first vice-premier Alexander Vucic and NIS CEO Kirill Kravchenko officially commenced work at Plandiste wind farm. Photo: courtesy of Naftna industrija Srbije.