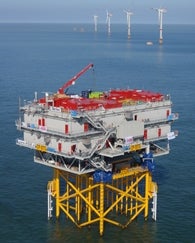 Power and automation technology group ABB has completed the subsea transmission link for C-Power's Thornton Bank offshore wind farm project in Belgium on schedule.
The scope of the transmission link project, which was built as part of an extension phase of the Thornton Bank wind farm, included the system engineering, design, supply and commissioning of the alternating current (AC) subsea cables, the land-based cable systems and the offshore substation.
The project is also comprised of an offshore transformer station for collecting and transmitting the power to the coast of Belgium that is located 30km offshore in the North Sea.
The transmission link connects wind turbines of the 325MW project to the offshore transformer station through underwater medium-voltage cables. The station will raise the voltage to 150kV and connect it to the mainland grid at the Slijkens high-voltage substation at Bredene, about 3km inland.
Construction of the Thornton Bank wind farm is executed in three phases with Phase 1 comprising six 5MW turbines built on gravity-based foundations commissioned in 2009.
Phase 2, which features 24x6MW turbines installed on jacket foundations, was commissioned earlier in 2013, while Phase 3, the extension phase, also consists of 24x6MW wind turbines installed on jacket foundations.
Phase 1 was directly connected to a substation onshore via an export cable, while the two other phases were integrated to an offshore substation.
Once fully operational, Thornton Bank is likely to generate 1,000GWh of electricity annually, which is enough to power about 300,000 Belgian households and account for around 7% of Belgium's renewable energy target by 2020.
ABB Power Systems division head Brice Koch said that the grid connection of renewable energy projects is a focal point for Europe as it trys to balance the need for electricity with reducing environmental impact.
"The close collaboration with C-Power combined with ABB's technologies, domain competence and experience were key success factors in the smooth execution of this project," Koch added.
---
Image: The Thornton Bank transmission link project features an offshore substation. Photo: Courtesy of ABB.