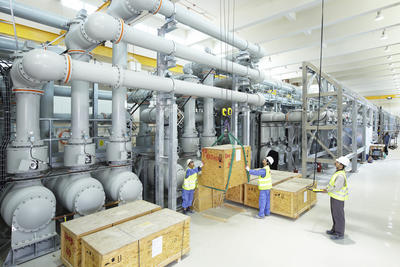 Power and automation group ABB has secured orders worth $70m to execute substation projects for the national power transmission and distribution operator, Saudi Electricity Company in Saudi Arabia.
ABB will design, supply, install and commission a new 132/13.8kV substation at Al-Raas in the Al-Qassim province and extend an existing 380 kV substation at the Princess Nourah bint Abdulrahman University (PNAU) in Riyadh.
ABB will also work on a project, through a local engineering, procurement and construction contractor, Ewaan Global Residential Company, to construct a 110/13.8kV substation at Al-Fareeda which will provide power to a new residential development, north of Jeddah city.
Equipment supply for the Al-Fareeda substation includes gas-insulated switchgear, transformers, medium-voltage switchgear, auxiliary systems and cables.
ABB head of power systems division Brice Koch said the substations will increase power capacity to address growing electricity demand in the central region.
"They will also help to improve grid reliability and power quality while ensuring energy efficiency," said Koch.
The scope of work also includes the extension of an existing 380kV substation at the Princess Nourah bint Abdulrahman University in Riyadh.
ABB will equip the substations with IEC 61850 compliant communication systems to enable centralised remote monitoring and control of power assets located at multiple sites.
Equipped with a capacitor bank, the Al-Fareeda substation will reduce electricity losses and enhance the stability and quality of power supply by improving the network's power factor
The projects are scheduled for completion by 2014.
Image: Gas-insulated switchgear, transformers, medium-voltage switchgear will be supplied to the substation projects; Photo: ABB