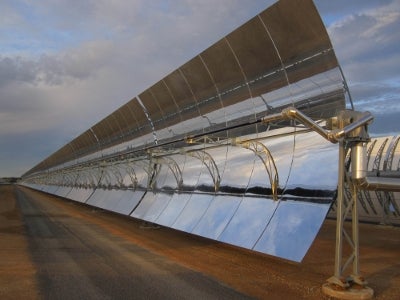 Saudi Arabia's Acwa Power has been selected by the South African Department of Energy to develop a 50MW thermo-solar plant near the city of Upington in South Africa for an estimated cost of €300m.
The Bokpoort thermosolar power plant will utilise the solar and environmental conditions of the nearby Kalahari Desert.
Acwa, leading a consortium made up of SENER, Acciona, TSK and Crowie, will serve as the engineering, procurement and construction contractor and will be responsible for handling construction works, commissioning and start up of the power plant.
The facility, to be complete in 30 months, will feature parabolic troughs which will employ a nine-hour molten salt heat storage system.
Construction work can begin once the company secures project financing and all the regulatory approvals and guarantee for the plant's 20-year energy sale to the South African government are received.
---
Image: The 50MW Bokpoort thermosolar power plant will have over 100km of SENER's parabolic troughs. Photo: courtesy of SENER.