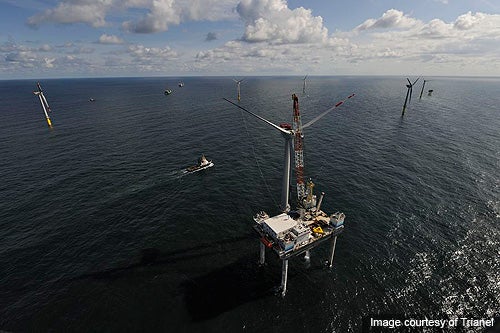 Alstom Grid has delivered the offshore substation platform for Trianel Windkraftwerk Borkum's 400MW wind farm in the German North Sea.
The offshore substation was manufactured in Bremerhaven, northern Germany and will connect the turbines to the onshore power grid.
Located about 45km north of the Borkum coast, the wind farm features 80 wind turbines, which are to be installed at water depths of 25m to 35m in two expansion stages.
The scope of Alstom's contract also includes a F351 gas-insulated substation and two 225 MVAr transformers for the platform.
Alstom's Dresden site in Saxony was in charge of project management, while transformers were delivered by teams at Mönchengladbach in North Rhine-Westphalia.
Bremerhaven-based WeserWind Offshore Construction has produced the steel structure for the platform.
On completion of the first expansion stage with a performance of 200MW, the wind farm will generate about 800 million kilowatt hours (KWh) of energy per year, enough to meet the needs of about 200,000 households.
The Borkum wind farm is being built by Trianel Windkraftwerk in association with 33 municipal participators from Germany, Austria and Switzerland.
The total investment for both expansion stages of the wind farm is expected to be about €1.6bn.
---
Image: The Borkum West II wind farm will consist of 80 Areva MultiBrid M5000 wind turbines.