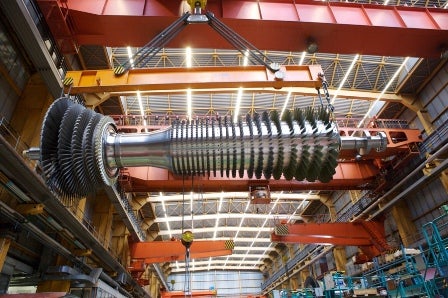 French energy giant Alstom has signed two contracts worth €75m with large-scale energy contractor Metka to deliver power generation equipment for key projects being executed for Samra Electric Power in Jordan.
Under the first contract, Alstom will deliver a GT13E2 gas turbine and associated spares for a new fast-track simple cycle power plant being built in the region of Zarqa.
The power company will design, deliver and supervise the installation of one gas turbine, generator and auxiliaries for the new unit.
The generating station, whose commercial operation is scheduled for June 2013, will add 146MW to the Jordanian grid – bringing more generation capacity ahead of the peak summer months.
Under the second contract, the firm will supply its steam-tail add-on technology to convert the existing Samra III simple cycle gas-fired station with a capacity of 285MW to a combined cycle plant.
The 'add-on' of this technology will boost power generation capacity by an additional 143MW and the project is expected to enter commercial operation in 2015.
Steam-tail technology increases efficiency and cut emissions per MW produced in an existing gas power plant through its adding steam power generation equipment.
Commenting on these contracts, Alstom Gas business senior vice president Mark Coxon said the Middle East is an important gas-fired power generation market for the firm.
"Our technology is well suited to the needs of the region and will support the Middle East in increasing its generation capacity in the most efficient and cost effective manner," Coxon added.
Alstom had already supplied two GT13E2 gas turbines for the 285MW Samra III simple cycle plant under a contract signed in 2009.
---
Image: Under the contract, Alstom will deliver GT13E2 gas turbine and other equipment. Photo: courtesy of Alstom.