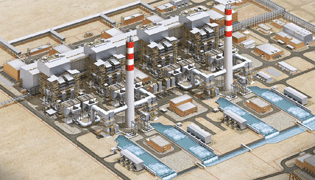 French company Alstom has won a contract worth €170m ($227m) from EPC contractor Hyundai Heavy Industries to supply four 720MW steam turbine generator sets for the Shuqaiq thermal power project in Saudi Arabia.
The scope of the contract includes engineering, manufacturing, supply and field services of all four steam turbines and generators and the provision of all direct control and auxiliary systems for the oil-fired power plant, which is likely to be operational in 2017.
In August 2013, Hyundai Heavy Industries won an EPC contract valued at $3.3bn from Saudi Electricity Company (SEC) to construct the Shuqaiq steam power plant in Saudi Arabia on a turnkey basis. Earlier in July 2013, SEC solicited bids for the construction of the Shuqaiq plant.
In September 2013, Poyry was awarded a contract valued at €40m ($53.4m) to provide owner's engineer services for the Shuqaiq plant, which will be located at the Red Sea coast in the western province of the country.
Under the contract, Poyry will be responsible for design review and site supervision of the complete power plant, the 380kV substation, the flue gas cleaning system, seawater intake and all related auxiliary systems.
Alstom claimed that its machines, which are being installed at Shuqaiq, will help Saudi Arabia to expand generation base and reduce environmental impact.
Alstom steam business senior vice president Andreas Lusch said that Hyundai Heavy Industries has selected them as its partner to supply critical equipment for the Shuqaiq plant in Saudi Arabia.
"This second substantial order for Saudi Arabia this year underlines Alstom's leading position in high efficiency steam turbine technologies," added Lusch.
---
Image: Alstom's equipment to power Shuqaiq plant in Saudi Arabia. Photo: Courtesy of Hyundai Heavy Industries.