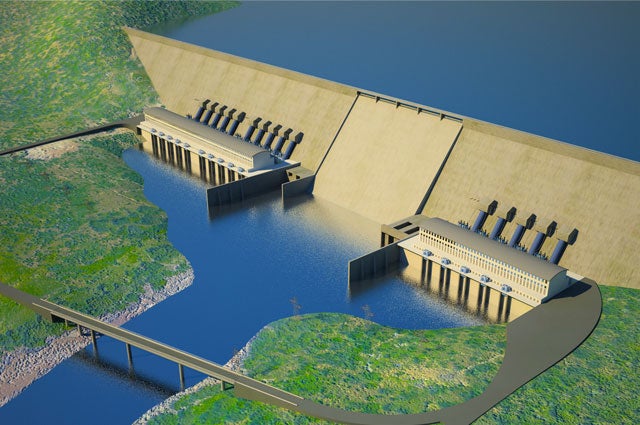 France-based Alstom has won a €250m contract to supply hydroelectric equipment for the first phase of Ethiopia's Grand Renaissance hydroelectric project located on the Blue Nile.
Under the contract, signed with Metals & Engineering Corporation of Ethiopia, the company will deliver turbines and generators for the hydro power plant, totalling a capacity of 3,000MW, which will be operated by Ethiopian Electric Power Corp.
Once complete, Grand Renaissance will be the largest hydroelectric complex in Africa with a total output of 6,000MW, and will increase the current electricity production capacity of Ethiopia by fourfold.
In the first phase, Alstom will be responsible for installation of all electromechanical equipment, including eight 375MW turbines and eight generators.
The company will oversee engineering and power plant commissioning, which is scheduled to start in late 2013 and is expected to continue for over three years.
Alstom will also supervise a programme to develop skills and know-how in the area of hydroelectricity in the region.
Alstom Renewable Power president Jérome Pécresse said that with the latest contract, the firm's position in African hydropower market has been consolidated.
"With the supply of the first high-capacity turbines in a short lead time, Alstom demonstrates its ability to meet the country's power needs as quickly as possible," Pécresse added.
"In Ethiopia, Alstom is already supplying wind turbines for the Ashegoda project and is willing to play a major role in developing Ethiopia's energy sector, enabling the country to drastically increase its power production capacity and develop local skills."
Alstom has supplied its equipment to hydropower plants in Angola, Ghana, Mozambique, South Africa, Sudan and Uganda.
The firm is currently executing two contracts to supply turbines and generators for the 120MW Ithezi-Thezi hydro power plant in Zambia, and the retrofit of the 712MW Inga 2A hydro power plant in Congo.
---
Image: The Grand Renaissance hydro power plant will produce 6,000MW of electricity. Photo: courtesy of Alstom.