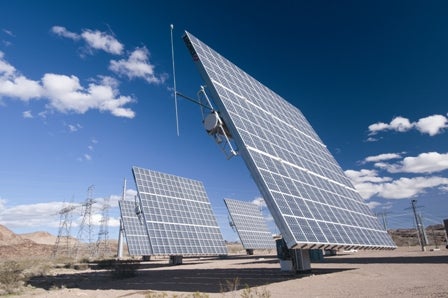 US-based solar power systems designer and manufacturer Amonix has announced it has converted over one third of direct sunlight into electricity, thus achieving the highest efficiency record ever reported under real-world, operating conditions for a solar PV module.
The National Renewable Energy Laboratory (NREL) confirmed in May 2012 an outdoor operating efficiency rating of 33.5% for an Amonix module, breaking the previously held record of 30.3% by the firm.
The module efficiency peaked at 34.2% when NREL conducted several days of on-sun testing.
Amonix founder and CTO Vahan Garboushian said: "We have been at the forefront of CPV technology breakthroughs and have consistently proven that CPV offers the highest efficiencies of all solar technologies in the right operating conditions with plenty of headroom."
NREL Reliability group manager Sarah Kurtz said that much of the world is unaware of the progress made by CPV firms towards achieving high power-conversion efficiencies.
"Achievement of > 33.3% efficiency for a commercial module is an important milestone. The Department of Energy once targeted this goal for a major initiative," Kurtz added.
"It is exciting to see this goal accomplished, especially in light of the opportunities for further efficiency improvements and the expectation of low costs associated with large-scale manufacturing."
---
Image: Amonix broke its own previously held efficiency record of 30.3% for a solar module by achieving a 33.5% efficiancy rating. Photo: courtesy of Amonix.