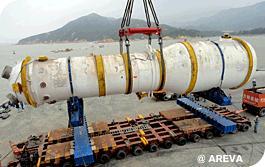 French nuclear engineering firm Areva has delivered the heavy components for the first EPR reactor of the Taishan nuclear power plant in China.
The order included the first two 550-tonne steam generators and a pressurizer for Unit 1 on the site of the plant.
Areva said the delivery of heavy components for the primary reactor coolant system marks an important step forward in the construction of the first EPR reactor in China.
Areva senior executive vice president for reactors and services activities Claude Jaouen added, "The optimized manufacturing and delivery in accordance with the customer's desired schedule of the heavy components for the Taishan 1 nuclear steam supply system demonstrates AREVA's capacity to mass produce equipment for the third generation of EPR reactors."
After leaving the Areva Chalon-St Marcel plant, the components were first transported to Fos-sur-Mer in the south of France.
They were then shipped onwards by sea to the Taishan site where they are being kept in storage awaiting installation.
Currently, the two remaining generators and the reactor pressure vessel internals are being transported to the site where they are expected to arrive in the coming weeks.
The manufacturing time for these 25m long generators has been reduced by nearly 40% compared to those manufactured previously for other EPR reactors, said Areva.
Image : Two 550-tonne steam generators and the pressurizer for Unit 1 have been delivered to the Taishan nuclear power plant in China; Photo: © Areva.