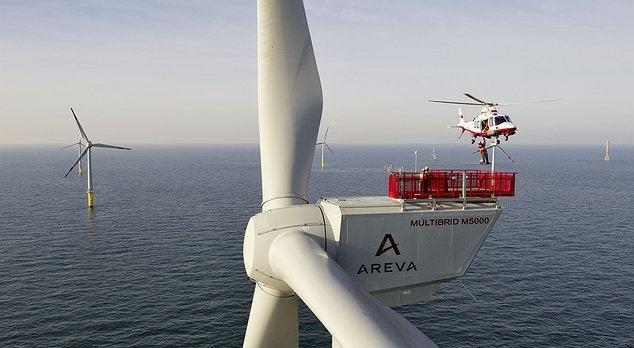 Areva has commenced the installation phase of the first Areva M5000 turbines at the Global Tech I offshore wind farm and Trianel Windpark Borkum in the German North Sea.
The 400MW Global Tech I project features 80 wind turbines of 5MW each and will generate more than 1.4 billion kWh of electricity annually, which is enough to power around 445,000 households.
Having already installed an offshore transformer station in May 2013, the crane ship Vidar from HOCHTIEF Solutions is now deployed at the project construction site for the installation of rotor blades.
Global Tech I will be built on a German Exclusive Economic Zone (EEZ) area of around 41km² located approximately 180km from Bremerhaven and 138km northwest of Emden.
In 2006, the developer has secured approval from the German Federal Maritime and Hydrographic Agency for Global Tech I and associated transformer station and started construction in August 2012.
"The Trianel Windpark Borkum is being built in two stages, each comprising of 40 turbines."
The Trianel Windpark Borkum is being built in two stages, each comprising of 40 turbines. Stage one of the project has recently installed the first Areva wind turbines and it will take around six months to install the remaining turbines.
MPI's purpose built vessel, Adventure, has been engaged for the installation of the 148m-high, 5MW class AREVA wind turbines.
Once fully operational, the project, which is located 45km to the north of the German island of Borkum, will generate enough clean electricity to power about 400,000 households.
Once Global Tech I and Stage one of Trianel Windpark Borkum complete, AREVA's turbines will account for 33% of the 1,800MW of Germany's offshore wind installed base.
---
Image: Global Tech I and Trianel Windpark Borkum will feature Areva offshore wind turbines: Photo: courtesy of Global Tech I.