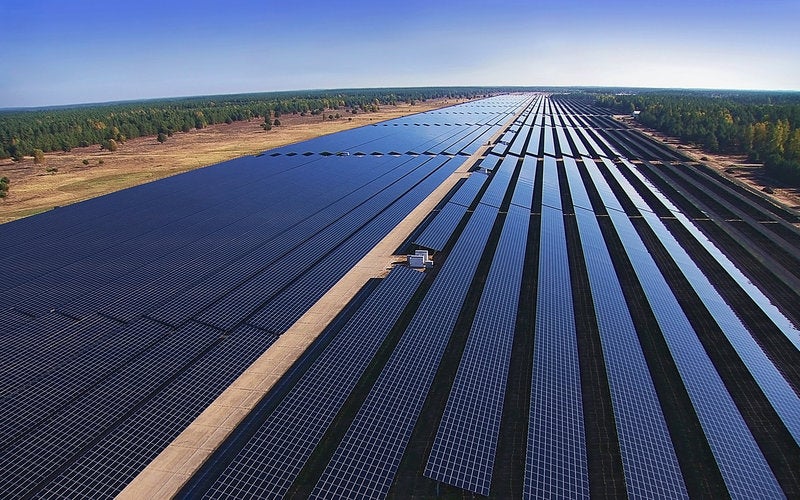 Solar projects developer Belectric has completed a 128MW solar photovoltaic (PV) plant in the German state of Brandenburg.
Situated on Gross Dolln, a former Russian military airfield, the solar power plant has been connected to the energy grid in Templin, Brandenburg.
The Templin solar power plant features more than 1.5 million First Solar cadmium telluride thin film PV modules and 114 central inverters, which have been developed by SMA.
The plant, the largest thin-film PV plant in Europe, also features a reactive power control, which the companies says will improve the stability of power grids.
The plant is expected to generate over 120 million kilowatt hours of power per year, equivalent to the annual consumption of about 36,000 households, and save around 90,000 tonnes of CO2 each year.
Belectric Solarkraftwerke chief executive officer Bernhard Beck said decentralised solar power plants will play an important role in the future structure of the power market in Germany.
"Power from plants like this is the most economical method of generating power from solar energy," Beck added. "At present, we have almost reached the power production cost level of onshore wind."
Belectric said it worked with Commerzreal on financing the Templin power plant, while a consortium of banks, led by German firms Bayerische Landesbank and UniCredit, served as lead arrangers for the long-term debt financing.
Earlier in 2013, Belectric Australia received planning permission for a 5MW solar power plant in Mildura, Victoria.
---
Image: The Templin solar power plant is expected to generate over 120 million kilowatt hours of power per year. Photo: Courtesy of Belectric.