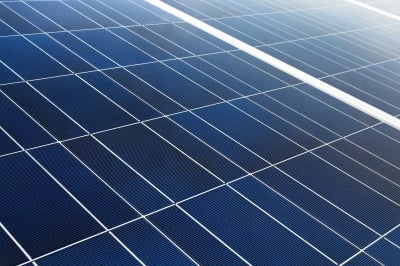 UK-based renewable energy developer Blue Energy has announced plans to build Africa's biggest solar plant, a new 155MW solar photovoltaic (PV) installation in Ghana.
The project will increase Ghana's generating capacity by 6%.
Blue Energy will finance and develop the $400m solar power plant on a 183-hectare site close to the village of Aiwiaso in Western Ghana.
Construction on the Nzema project is due to begin by the end of 2013 with the installation of 630,000 PV modules. The plant is scheduled to be fully operational by October 2015.
The solar PV project will be the first major scheme to claim payments from Ghana's feed-in tariff incentive scheme, which was created in 2011 by the government.
Blue Energy CEO Chris Dean highlighted Ghana's forward-thinking strategy and said it could help the nation lead renewable energy revolution in sub-Saharan Africa.
"Nzema is a case study in how governments can unlock the huge potential for solar energy in Africa," Dean added.
Instead of 'troughs' used in concentrated solar power technology, the firm plans to use solar PV, as it can generate electricity even during more than 100 cloudy days a year in Ghana.
Blue Energy has reportedly secured all necessary permissions for the power plant and now concluding talks with several financial institutions and global equity and infrastructure funds.
About 200 permanent and 500 temporary jobs are expected to be created during the construction phase. The company has already received green signal for the construction from planning authorities.
Ghana intends to grow renewable energy capacity from its current 1% of the nation's energy mix to 10% by 2020. The average carbon footprint of a Ghanaian is 0.4 tonnes of carbon dioxide.
---
Image: construction of the 155MW solar PV project is expected to begin by the end of 2013. Photo: courtesy of FreeDigitalPhoto.net.