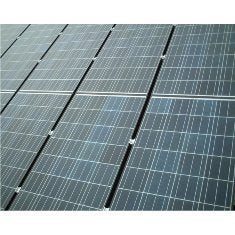 Canadian Solar has supplied solar modules with a total output of 3.6MW to a skiing facility in Hamburg-Wittenburg, Germany.
The photovoltaic rooftop installation on the alpincenter would significantly offsets energy costs as well reduce the power needed to run the cooling system owing to the shadowing effect underneath the solar system.
Alpincenter owner, the Dutch Van der Valk Group, said it was facing the challenge of cutting down energy costs for operating the facility that features 30,000m² of ski slopes.
With this solar modules installation, the company can operate the building all through the year using only self-generated power.
Canadian Solar chairman and chief executive Dr Shawn Qu highlighted the significance of this type of projects.
"Projects like the alpincenter Hamburg-Wittenburg are the future of solar energy: PV systems that cover the facility's complete energy demand and that do not depend on public subsidies," Qu added.
"It is a particular proof of photovoltaic efficiency that a winter sports center – which needs great amounts of energy – uses solar power. We are therefore extremely proud our modules are now deployed in Wittenburg."
Germany-based project management company, Dr. Metje Consulting was in charge of planning and implementing the solar project.
Dr. Christian Metje of Dr. Metje Consulting said: "For a rooftop system of this scale, efficiency and quality of the modules are paramount. Particularly for the alpincenter Hamburg-Wittenburg, which wanted to completely cover their energy demand by the self-produced power, performance losses are not tolerable."
Canadian Solar provides ingot, wafer, solar cell, solar module and other solar applications, in addition to designing and manufacturing solar products and solar system solutions for on-grid and off-grid use.
---
Image: Canadian Solar's modules installed on the roof of alpincenter could output 3.6MW. Photo: courtesy of Mhassan abdollahi.