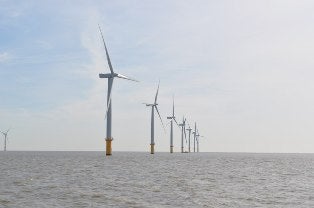 Guangdong Mingyang Wind Power Group, a subsidiary of Ming Yang, has signed a strategic cooperation agreement with energy services provider China Guangdong Nuclear Power (CGNPC) for wind and solar power development in China.
The two companies will join forces to develop renewable power projects, including the Golden Bay offshore wind power project in Jieyang, Guangdong province.
In addition, both companies will promote onshore and offshore wind power project developments in Fujian province, and promote overseas market opportunities.
Under the agreement, both the firms will collectively establish a renewable energy fund and improve utilisation of wind and solar power through research and development.
Chuanwei Zhang, Ming Yang chairman and CEO, said the latest collaboration is strategically significant for the company which is pursuing off-shore wind power development in China.
"We will focus on developing offshore wind power projects in Guangdong and Fujian provinces," Zhang added.
"We believe the collaboration will help combine CGNPC's extensive experience and strong record in clean energy development with Ming Yang's strengths, consolidate Ming Yang and CGNPC's international business and capture international market opportunities."
Shi Bing, CGNPC deputy general manager, said: "We believe the alliance with Ming Yang will help us further develop the wind power markets in Guangdong and Fujian, accelerating Guangdong province's new energy developments."
China Ming Yang Wind Power Group manufactures wind turbines while CGNPC supplies clean energy and provides energy services.
---
Image: The two firms will also develop wind power projects in China. Photo: courtesy of Ashley Dace.