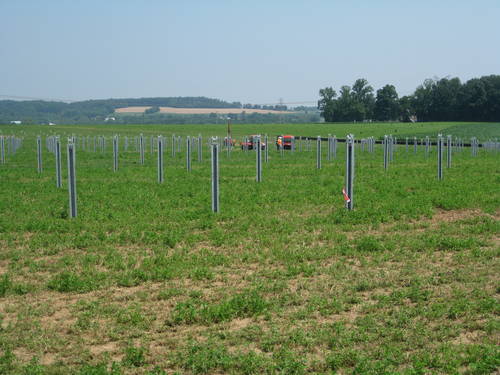 Community Energy Solar has begun construction work on its 6MW DC Keystone Solar Project in Lancaster County, Pennsylvania, US.
Canadian Solar is supplying 20,000 of its 290W modules which are being installed on fixed tilt, ground-mounted aluminum racking provided by Schletter.
The panels will be interconnected to the PPL Electric grid at 12kV with AE inverters and platforms.
Brent Beerley, Community Energy executive vice president, said: "Forward-thinking retail electric customers, backed by Exelon Generation on wholesale, and leadership from East Drumore township, the State of Pennsylvania, and the PA Sustainable Energy Fund were all part of making this happen, and we're under construction with an experienced team led by contractor groSolar using Canadian Solar modules. We couldn't be happier with the team."
The company worked with Lancaster County farming community and township officials in designing the project.
Scott Kreider, Lancaster County Township Supervisor Chair, said: "They designed the project so that the land can be used for agriculture again when the project is complete."
Under the terms of a 15-year power purchase agreement, the company will supply about 7.5 million kV/h per year of solar generated electricity to Exelon Generation.
Exelon Generation also financed the project along with Ben Franklin Technology Partnership, the Sustainable Energy Fund and the State of Pennsylvania.
GroSolar is the general contractor on the project, which is scheduled for completion later this year.
---
Image: Solar panels are being installed on driven posts at the 6MW DC Keystone Solar Project in Pennsylvania. Photo: courtesy of Community Energy Solar.