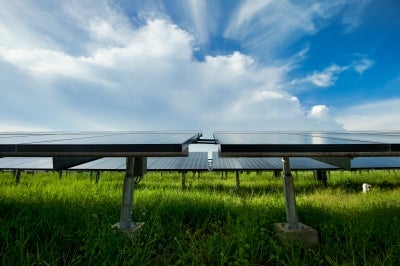 US Energy group Constellation will develop an aggregate 4.35MW solar generation project for the Casa Grande Union High School District in Casa Grande, Arizona.
The solar power systems will be financed, owned and operated by Constellation, while the school district, in return, will purchase all of the electricity generated at a fixed price under a 20-year solar services agreement.
The solar panels, which are expected to meet up to 75% of the school district's electricity needs, will be located at four sites – Vista Grande High School, Casa Grande High School, the Casa Verde High School campus and the school district's transportation centre.
Shannon Goodsell, Casa Grande Union High School District superintendent, said: "The new solar power systems will help the district to maintain stable electricity costs and serve as an educational resource for our students to learn about renewable energy."
Initially developed by Kennedy Partners and REgeneration Finance, the school district's solar project will be built by CORE Construction.
The project is also facilitated, in part, by the Arizona Corporation Commission-approved APS Renewable Energy Incentive Program, which offers financial incentives, covering up to 40% of the installation costs to customers who add renewable energy systems to their homes or businesses.
The solar power systems are comprise 18,232 photovoltaic panels (PVs), located on 43 carport structures.
The project, scheduled for completion by December 2012, is expected to generate nearly 7m KW/h of electricity annually.
Michael Smith, Constellation vice president of solar and energy efficiency sales, said that hosting on-site solar generation is a viable approach to meet environmental goals and control energy costs.
"Constellation congratulates Casa Grande Union High School District for its commitment to renewable energy and is proud to bring another solar project online for Arizona schools," Smith added.
---
Image: Solar panels are expected to meet up to 75% of the Casa Grande school district's electricity needs. Photo: courtesy of Chris Bills, Chris Erickson, Calla Leonard and Patrina Eiffert