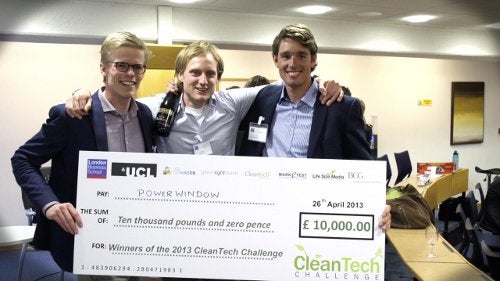 A team of budding engineers from the Netherlands' Delft University of Technology has won the CleanTech Challenge 2013 for their 'Power Window' concept.
The students beat off competition from nine other teams and won a £10,000 prize to develop their idea for coated windows which generate electricity.
The CleanTech Challenge is jointly hosted by London Business School and University College London.
The competition helps students from across the world to develop their clean technology business ideas through a three-stage competition.
The Power Window concept will produce electricity by combining three technologies, which include luminescence, fibre optic cables and photovoltaics (PV).
The winning team said: "It is fantastic to have the potential of our idea acknowledged by being awarded the first prize by a jury with so much knowledge and expertise in the field of cleantech."
The CleanTech Challenge was launched in 2009 with an aim to generate actual cleantech businesses rather than simply rewarding the best "on paper" business plan.
To date, the competition has produced numerous businesses, including 2012 winner Sunuru, which produces lightweight, highly customisable solar panels that can be installed by businesses who then sell the resulting green energy to end consumers.
---
Image: The winning team of CleanTech Challenge 2013. Photo: Courtesy of CleanTech Challenge.