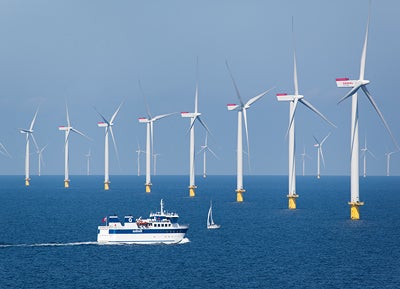 Danish utility DONG Energy has officially inaugurated the 400MW Anholt offshore wind farm in the Kattegat, located off Denmark's eastern coast, around 20km north-east of the Jutland peninsula.
The project, which features 111 Siemens 3.6MW wind turbines, will supply enough electricity to power approximately 400,000 Danish households.
The project, which is owned by DONG Energy (50%), Pension Danmark (30%) and PKA (20%), connected its first turbine to the grid in September 2012 and has become fully operational by connecting the 111th turbine to the Danish grid in June 2013.
Earlier in May 2009, the Danish Energy Agency solicited bids for the Anholt project development off the Danish coast as part of the February 2008 Energy Policy Agreement between the government and all of the parliamentary parties.
DONG Energy won the concession to develop the project in June 2010 and signed a contract with Siemens for the supply of wind turbines.
The scope of supply contract included manufacturing, installation, and commissioning of the wind turbines as well as provide maintenance service for the first five years, with an option of selected services for the second five years.
"The project will supply enough electricity to power approximately 400,000 Danish households."
Having determined the final layout of the project following geotechnical investigations in 2010, DONG Energy has selected the Port of Grenaa as the base for the project for both construction and operational activities, and started construction works in late 2011.
MT Hojgaard fabricated and installed the 111 foundations, while Nexans supplied the submarine cables and related accessories for the wind farm.
Siemens installed all the turbines across a surface area of 88km2 in water depths of up to 19m in less than nine months.
---
Image: Siemens completed installation of all turbines at Anholt offshore wind farm. Photo: courtesy of Siemens.