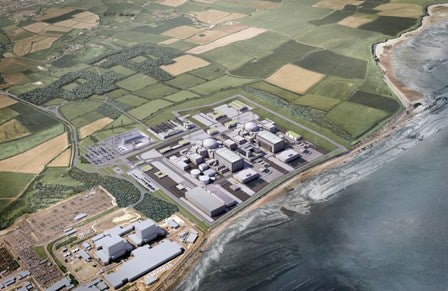 EDF Energy has secured planning approval from the Department for Energy and Climate Change (DECC) to construct a £14bn nuclear power plant at Hinkley Point C in Somerset, UK.
Hinkley Point C is the first new nuclear station to be constructed in the UK since 1995.
The 3.2GW nuclear power plant will feature two EPR reactors, each of 1.6GW capacity, capable of generating 7% of UK's total electricity, enough to meet power requirement for 5m homes.
The nuclear power plant will generate almost four times more electricity than Hinkley Point B station, which produces around 880MW of electricity.
The approval is good news for the UK nuclear industry, which has suffered a number of set backs in recent months.
In January, Cumbria Country Council voted to opt out of the process to find a location for a £12bn underground nuclear waste facility, and British firm Centrica withdrew its plans to participate in the UK nuclear build programme the following month.
EDF Energy chief executive Vincent de Rivaz said; "This decision sets up a huge opportunity for this project to provide enormous benefits to the UK in jobs, skills, cutting carbon emissions and future energy security."
de Rivaz noted that to take the project forward, both the government and EDF have to agree on how to guarantee a minimum price for the electricity from Hinkley Point.
"Intensive discussions with the Government are taking place and agreement is still possible," de Rivaz added.
Commenting on the approval, UK Energy and Climate Change Secretary Ed Davey said the decision follows three years of in-depth consultation with local communities and a year-long examination by the UK Planning Inspectorate.
"Hinkley Point C is the first new nuclear station to be constructed in the UK since 1995."
"This planned project adds to a number of new energy projects consented since May 2010, including wind farms and biomass and gas-fired power stations," Davey said.
"[The plant] will generate vast amounts of clean energy and enhance our energy security. It will benefit the local economy, through direct employment, the supply chain and the use of local services."
Welcoming the government decision, CBI chief policy director Katja Hall said; "This is a big step forward on a critical energy infrastructure scheme. Major projects like this not only help us to overcome our energy challenges, but provide a real boost to growth, creating thousands of jobs directly and through the supply chain."
"A balanced energy mix is essential in order to ensure secure, low-carbon and affordable supply in the future, and new nuclear is a key part of this," Hall added.
Earlier in this month, the Environment Agency granted three environmental permits for the nuclear plant.
The permits will allow the plant to release cool water and other liquid waste, as well as dispose small amounts of low-level radioactive liquids, gases and solid wastes.
---
Image: The power plant will generate 7% of UK's electricity once fully operational. Photo: Courtesy of EDF Energy.