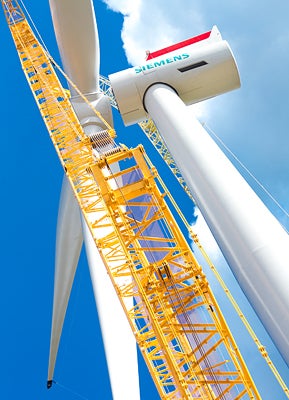 EDF Renewable Energy has announced that the 161MW Spinning Spur Wind Project in the US state of Texas has entered operation and is now supplying electricity to the regional transmission grid.
Located in Oldham County, about 30 miles west of Amarillo, the wind project is comprised of 70 Siemens 2.3MW turbines.
Under a 15-year power purchase agreement, clean electricity generated at the wind farm will be sold to Southwestern Public Service Company (SPSC), a wholly-owned subsidiary of US-based utility Xcel Energy.
The company said the Oldham County wind project will generate enough renewable energy to power approximately 50,000 average homes in the region.
EDF Renewable Services, formerly enXco Service Corporation, will partly service the Spinning Spur project during the turbine warranty period.
US-based Cielo Wind Services participated with EDF Renewable Energy in the construction management of the project.
EDF Renewable Energy executive VP Ryan Pfaff said that Texas leads the country in installed wind capacity – partly due to robust wind resources and a business friendly environment.
"Spinning Spur represents EDF Renewable Energy's first project in Texas, and we look forward to future opportunities to build on newly established partnerships with the project's landowners, the local community, and Southwestern Public Service Company," Pfaff added.
Cielo Wind Services executive Walt Hornaday remarked that the firm's team directed a project spending programme for construction contracting with SPSC customers and Oldham County businesses.
"The local property tax incentives and Southwestern Public Service Company's long-term wind purchase directly resulted in hundreds of jobs during construction," Hornaday added.
---
Image: The 161MW wind project in Texas will produce enough clean electricity to power about 50,000 average homes in the region. Photo: courtesy of Siemens.