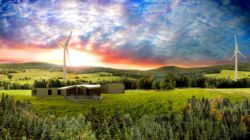 Spain-based Elecnor has received €193m in financing to develop the 100MW L'Erable wind farm, which is being built in Quebec, Canada.
National Bank Financial and Sun Life Assurance were the co-underwriters for the syndicated loan.
The L'Erable project was awarded by Hydro-Québec, which has entered into an arrangement to provide electricity from the farm for 20 years.
The wind farm will supply renewable energy for some 30,000 homes, with its completion expected in the next 18 months.
Elecnor's subsidiary Enerfín intends to install 50, 2MW unit-power wind turbines using latest-generation technology from Germany.
The financing for the Quebec farm is part of the investment effort put in place by Elecnor in its 2011-2013 Strategic Plan, which comes to €2.8bn.
---
Image: Elecnor's wind farm is scheduled to be completed in 18 months. Photo: courtesy of Elecnor