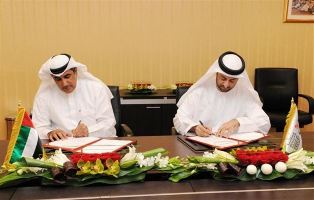 The Emirates Nuclear Energy (ENEC) and the National Emergency Crisis Management Authority (NECMA) have signed a memorandum of understanding (MoU), which would facilitate the development of off-site emergency response plans for the Barakah nuclear power plant in the UAE.
The MoU, which will consolidate the relationship between the two parties, establishes the specific responsibilities of each organisation in off-site emergency preparedness planning.
Mohamed Khalfan Matar Al Romaithi, NECMA general manager, said: "The memorandum of understanding is just one feature which will help to ensure that the Barakah nuclear power plant adheres to the highest standards in safety."
Mohamed Al Hammadi, ENEC chief executive officer, said in design, construction and operation of the Barakah nuclear plant, the ENEC will maintain highest international levels of safety and security.
He added: "That means being prepared for every possible scenario. Planning for emergencies is just one of the ways in which we ensure that the UAE's nuclear power program is among the safest in the world.
"The site in Barakah, which is located in the Western Region of Abu Dhabi, was selected based on a variety critical factors, including seismic history and the environmental conditions of the site. The site is also located away from the UAE's marine protected areas.
"Our programme also continues to receive the approval of the international nuclear community. With the help and cooperation of the National Emergency Crisis Management Authority we believe we will continue to merit this confidence."
NCEMA, which manages crises, emergencies and disasters, will work towards the objective of ensuring safety and protection of the local population, environment and property under the MoU.
ENEC began construction of the Barakah nuclear energy plant in July 2012 by pouring the first nuclear safety concrete for Barakah Unit 1.
---
Image: NECMA general manager Mohamed Khalfan Matar Al Romaithi with ENEC chief executive officer Mohamed Al Hammadi during the MoU signing ceremony. Photo: courtesy of The National Emergency Crisis Management Authority.