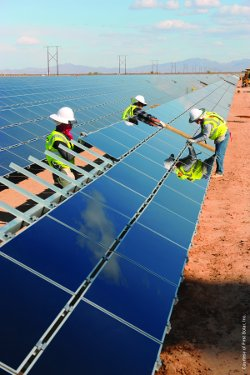 Photovoltaic (PV) systems provider, First Solar, has entered power purchase agreements with Pacific Gas and Electric Company (PG&E) for 72MW of solar electricity.
The electricity will be generated at two PV power plants being developed in California, US.
First Solar is developing the 40MW Cuyama project in Santa Barbara County and the 32MW Lost Hills project in Kern County. The proejects are expected to create around 600 jobs during construction.
On completion of the development process, First Solar intends to begin construction in 2013, subject to the plans of the projects' ultimate owners.
The Cuyama and Lost Hills projects are anticipated to produce enough renewable energy to power 24,000 homes in the state, offsetting about 45,000 metric tonnes of carbon dioxide per year.
Brian Kunz, First Solar Project Development vice president, said the addition of both projects to PG&E's solar portfolio will help California reach its renewable energy goals.
"Grid-friendly utility-scale power plants from First Solar are readily integrated into the electrical infrastructure," Kunz added.
The power purchase agreements are subject to approval from the California Public Utilities Commission.
Delivery term of the power purchase agreement begins in 2019 and the approval decision is expected in the first half of 2013.
---
Image: The solar project being developed by First Solar could power some 24,000 homes in California. Photo: courtesy of First Solar.