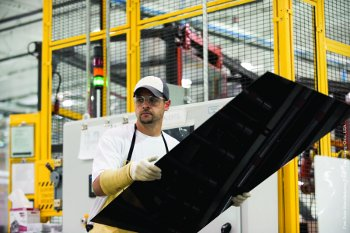 First Solar, Kiran Energy Solar Power and Mahindra Solar One have signed an agreement to supply solar modules for two 50MW DC photovoltaic (PV) power projects being built in the Indian state of Rajasthan.
The two adjacent projects are part of the second batch of utility-scale solar projects initiated under India's Jawaharlal Nehru National Solar Mission (NSM), which aims to install 20,000MW of new solar electricity generating capacity by 2022.
Construction on both projects is likely to start this year and expected be completed in the first quarter of 2013.
The two power projects are expected to produce an average of over 85,000MWh of clean electricity per year, enough to power about 97,000 average Indian households annually.
The electricity generated at these facilities would displace nearly 80,000 metric tonnes of carbon dioxide each year based on the national averages.
First Solar India country head Sujoy Ghosh said: "First Solar looks forward to working with two leading companies like Kiran and Mahindra Solar One to support India's renewable energy goals, and we are pleased they selected our technology as the best solution for the high ambient temperatures and diffuse sunlight conditions here."
Commenting on the partnership, Kiran Energy chief operating officer Pramoda Karkal said: "We are also very happy about our partnership with First Solar, which is providing its world-class PV technology. This will enable us to create a high-quality solar plant that could rank among the best in the country in terms of quality, uptime and output."
---
Image: First Solar will supply thin-film solar modules to the project in India. Photo: courtesy of First Solar.