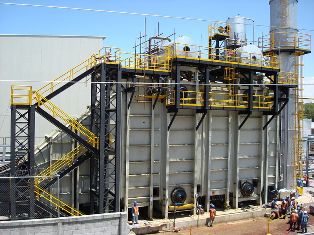 SCS Proyectos has awarded a contract to a subsidiary of Foster Wheeler's Global Power Group to design and supply two heat recovery steam generators (HRSGs) in Mexico.
The HRSGs would be installed at a cogeneration power plant, which is owned by Cogeneración de Energía Limpia de Cosoleacaque, for the Tereftalatos Mexicanos S.A. DE C.V. Top 1002 Cogeneration Project in Cosoleacaque, Veracruz.
In addition to supplying the HRSGs, Foster Wheeler will provide advisory services for the start-up of the generators, which are expected to be delivered by mid-2013.
The company said the two HRSGs would be coupled to two LM 6000PF combustion turbines.
Foster Wheeler Energia chief executive officer, Jesús Martí Sanz, said this award demonstrates the firm's design and competitiveness in the heat recovery steam generator market.
"Mexico is an important market for Foster Wheeler and our value-added solution – performance, reliability and service – is a perfect match for our customer's needs," Sanz added.
Foster Wheeler said it has received a full notice to proceed on this contract, whose value was included in its second-quarter 2012 bookings.
The Switzerland-based Foster Wheeler through its Global Power Group unit, designs, manufactures and erects steam generating and auxiliary equipment for power stations.
---
Image: A modular heat recovery steam generator (HRSG). Photo: courtesy of Sphudson.