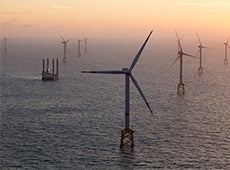 FoundOcean has secured a contract from Graham Construction to pile grout the foundation for Samsung Heavy Industries' 7MW offshore wind turbine demonstrator in Fife, Scotland.
As per the contract, FoundOcean will complete the contract for the world's largest offshore wind turbine under two phases using the Exagrout material Masterflow 9500 from BASF.
The first phase involves grouting the jacket foundation's 30m pre-drilled sockets, while the second phase includes forming a connection between the 500 tonne jacket's stab-in legs and piles.
A walkway is being built from the shore to the turbine foundation, which FoundOcean will also grout into place using conventional pile grouting techniques.
FoundOcean will use its new Super Pan Mixer, which will double the current output rate of all other high-strength grout mixers on the market.
After completion of the grout work, it will be pumped directly to the jacket's primary input 35m offshore.
FoundOcean expects to carry out grouting work in July 2013, while Graham Construction will manage the installation of the entire Fife demonstrator project.
Scotland Minister for Energy, Enterprise and Tourism Fergus Ewing said Fife can play an important role in developing knowledge and research in the country's energy sector.
"Not only will this development provide a much needed boost to our economy, but more than 500 jobs could be created in Fife through this £100m project to develop a new generation 7MW wind turbine," Ewing added.
---
Image: FoundOcean will use steel jackets similar to those which were used in Thornton Bank Offshore Wind Farm. Photo: Courtesy of FoundOcean.