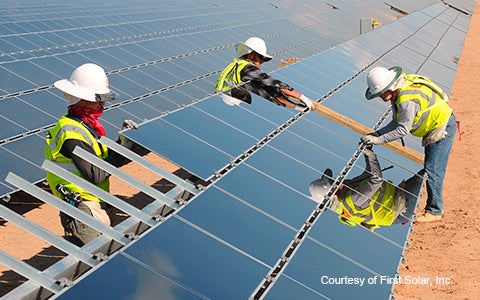 The Frank Lloyd Wright Foundation has inaugurated a new 250kW AC solar photovoltaic (PV) power installation donated by First Solar at Taliesin West, the main campus for the Frank Lloyd Wright School of Architecture in Arizona, US.
The solar installation is the first phase of a programme to make Taliesin West a net-zero facility, producing as much energy as it consumes annually.
Frank Lloyd Wright Foundation CEO, Sean Malone, said: "As we continue to move forward with this endeavor, we remain consistent with the values of Taliesin West and advancing the Foundation's mission to preserve and expand the heritage of Frank Lloyd Wright."
The project was led by energy efficiency consultant, Big Green Zero, which plans to maximise the campus energy efficiency through improved lighting, insulation, climate controls and other techniques while generating renewable energy on-site
About 4,000 thin-film solar panels were donated by First Solar in addition to design and installation services.
Big Green Zero CEO, Bob Roth, said: "Over the next several years, the Energizing Taliesin West team will be installing and experimenting with additional energy efficiency technologies."
It is expected that the solar system will generate more than 500MWh of emission-free electricity and save 300t of carbon dioxide every year.
An energy audit performed by Big Green Zero found Taliesin West's $200,000 energy bill could be cut by around 50% if efficiency improvements were implemented, and renewable energy technology installed.
Image: About 4,000 thin-film solar panels were donated to Taliesin West by First Solar. Photo: courtesy of First Solar.