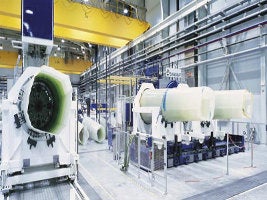 Spanish wind turbine manufacturer Gamesa has won a contract to provide operation and maintenance (O&M) services to 13 wind farms in Europe.
Owned by EDP Renewables, the wind farms have a combined capacity of 400MW and are located in several European nations, including France, Spain and Portugal.
Under the latest contract, Gamesa will perform maintenance services for a period of three years on their 402 850kW and 29 2.0MW wind turbines.
The firm will also provide technical assistance for 179 660kW-capacity wind turbines under the contract, which could be extended for another three years.
Gamesa said the new service contract will strengthen its foothold in the operation and maintenance business, which is crucial for the company's profitable growth.
Earlier this month, the firm won a O&M contract from NedPower to service the 264MW Mount Storm Wind Farm in West Virginia, US, over ten years.
The O&M services business division of Gamesa is servicing over 18,000MW of turbines worldwide for 180 clients.
---
Image: Gamesa's wind turbine manufacturing facility in Cuenca, Spain. Image: courtesy of Gamesa.