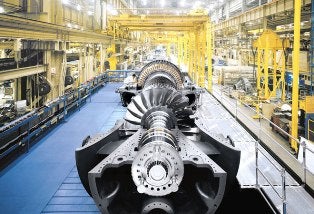 General Electric (GE) has received a contract to supply eight 7F 5-series gas turbine-generators for Saudi Electricity Company's (SEC) Riyadh Power Plant 12 (PP12).
About 2,000MW of power will be added to the project, which will help SEC meet its future electricity demands when it enters commercial operation in 2015.
GE said PP12 will be one of the most important combined-cycle projects in Saudi Arabia using GE's advanced F-class gas turbines and will be the first application of GE's 7F-5 series gas turbine technology in the region.
Under the contract, the company will be responsible for technical direction for the installation of the units, spare parts, commissioning support and training.
SEC president and chief executive, Ali Saleh Al Barrak, said: "For this important initiative, which will enable us to provide the additional electricity that will be needed to support Saudi Arabia's ongoing economic growth, we have selected GE's proven F-class technology.".
"We are confident that GE's technology will provide the high performance levels needed to make PP12 a successful project."
GE Energy Middle East president and CEO, Joseph Anis, said: "PP12 marks another technology milestone for GE in Saudi Arabia, as it will feature the first application of our 7F 5-series gas turbines in the region and is part of our FlexEfficiency portfolio of products."
The project, located adjacent to Riyadh PP11, is part of Saudi Arabia's plans to add 33GW of power generation capacity by the end of this decade.
The PP11 power plant also features GE technology that will add over 1,700MW of power to the grid.
---
Image: The addition of GE's gas turbine-generators will help SEC meet its future electricity demands. Photo: courtesy of General Electric (GE).