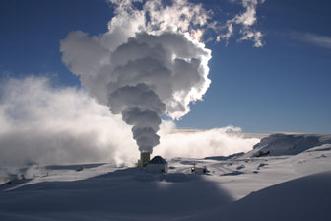 A geothermal field discovered in Chile could be a game-changer for power output in the country, GeoGlobal Energy Chile (GGE Chile) has said.
The company has successfully completed its exploratory drilling programme on the on the northwestern flank of the Tolhuaca mountain and reported that flow tests lasting more than 45 days demonstrated that the production and injection wells are capable of supporting commercial power production.
One of the wells, Tolhuaca No. 4, is said to be the most productive geothermal well ever drilled in South America.
The well, which was drilled to a depth of 2,300m, is producing high-temperature steam that could generate 12MW of electrical energy, enough to power 45,000 homes.
Gregory Raasch, GeoGlobal Energy executive vice president and co-founder, said: "The discovery of a proven commercial field is a game changer for geothermal in Chile."
"This project demonstrates that geothermal energy can be a significant part of the Chilean electrical system and provide clean, reliable electrical power," added Raasch.
The company, which has been exploring Tolhuaca for over three years, is continuing project development of the site, including design, permits and construction of power plants and transmission lines.
Commercial operations are expected to begin by 2014
GeoGlobal Energy Chile general manager Rüdiger Trenkle said completion of the well drilling programme is a historic development for the country.
"Large hydro projects are being suspended in Chile and coal projects are being delayed for environmental reasons," Trenkle added.
"Geothermal energy by contrast is a clean, baseload domestic fuel source that can play a critical role in helping meet the country's power needs."
---
Image: High-temperature steam from the Tolhuaca No. 4 geothermal well could generate 12MW of electrical energy. Photo: courtesy of GeoGlobal Energy.